PayPal Pro Hosted is no longer available for download via the WooCommerce Marketplace, but will continue to be supported for existing merchants. You can now download PayPal, PayPal's latest, most complete payment processing solution.

If you are already using PayPal Pro Hosted we strongly recommend upgrading to PayPal for the best experience and future feature upgrades.

If you need support with PayPal Pro Hosted, this is provided by the team at WooCommerce.com, you can get in touch with a Happiness Engineer via the Help Desk, choosing PayPal Pro Hosted from the "I need help with" dropdown.
PayPal Pro Hosted offers merchants a way to securely accept credit and debit card or PayPal payments without capturing or storing card information on their website.
Payment information is collected by PayPal using an inline frame inside your WooCommerce store.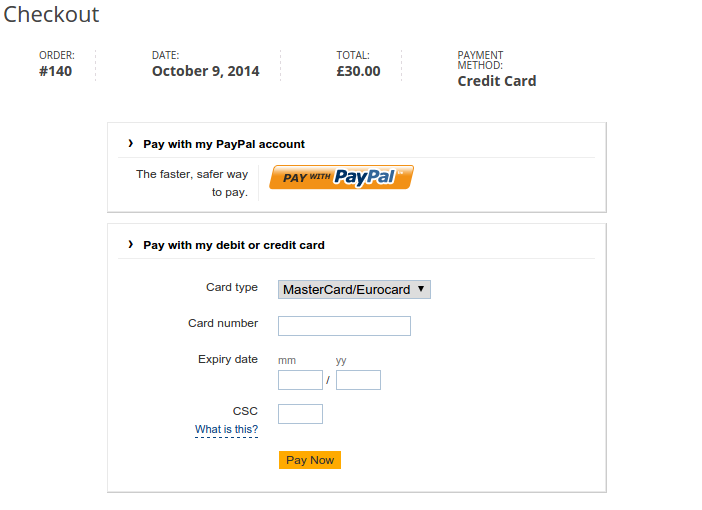 To learn more, see: Website Payments Pro Hosted Solution.

PayPal Business account
Store location in Australia, France, Hong Kong, Italy, Japan, Spain, or the United Kingdom
*Works differently in some countries and uses varying names. For details, see International availability and fees.
Download the .zip file from your WooCommerce account.
Go to: WordPress Admin > Plugins > Add New and Upload Plugin with the file you downloaded with Choose File.
Install Now and Activate the extension.
More information at: Install and Activate Plugins/Extensions.
You need a PayPal Business account, API Signature and Credentials, and you need to be subscribed in Website Payments Pro Hosted Solutions.
1. Verify your account status
Go to your PayPal Profile under Settings, scroll to the bottom and verify that your Account Type is Business.
2. Get your API Credentials
Once verified, select from the menu at the top Tools » All Tools, and then Integrate PayPal from the menu on the left.
Select API Credentials, and under NVP/SOAP API Integration, click on Manage API credentials.
If this is your first time, you'll be presented with the Request API Credentials page, with an option selected by default to Request API signature (leave it selected), and a button, Agree and Submit, which you can click after reading and agreeing to the license agreement.
Once generated, you'll be presented with the View or Remove API Signature page, from where you can copy the API Username, API Password and Signature credentials over to the PayPal Hosted settings page on your site
Note: to test payments via the PayPal sandbox, you'll require separate credentials for which you need a PayPal Developer account.
3. Apply for Website Payments Pro Hosted Solutions
Click the link for your country:
PayPal usually reviews and approves applications in 5-7 business days.
Go to: WooCommerce > Settings > Checkout > PayPal Pro Hosted

Enter

plugin options using your PayPal account (

Receiver Email

) and set up

API Credentials

:
The PayPal Pro Hosted plugin is now ready.
Note: You don't need to configure return or notifications URLs because the plugin does it for you :)
The only way to use PayPal Pro Hosted with WooCommerce Subscriptions (separate purchase) would be to have manual subscriptions set up. Automatic recurring payments are not supported.
Does it support all credit card providers in every country?
No. There are limitations in each country.
Australia: Supports Visa and MasterCard
France: Supports Visa, MasterCard, Carte Bancaire, Carte Aurore, Cofinoga and 4 étoiles
Hong Kong: Supports Visa and MasterCard
Italy: Supports Visa, MasterCard, Carta Aura (processed by Cetelem), Postepay (Visa) and PayPal prepaid card (MasterCard)
Japan: Supports Visa, MasterCard and JCB
Spain: Supports Visa, MasterCard and Tarjeta Aurora (processed by Cetelem)
United Kingdom: Supports Visa, Visa Debit, Visa Electron, MasterCard and Maestro
Yes.
Yes.
Have a question before you buy? Please fill out this pre-sales form.
Already purchased and need some assistance? Get in touch with a Happiness Engineer via the Help Desk.