Give Products allows you to give users a product without the checkout and order process.
WooCommerce 3.5+
PHP 5.4+
Download the .zip file from your WooCommerce account.
Go to: WordPress Admin > Plugins > Add New and Upload Plugin with the file you downloaded with Choose File.
Install Now and Activate the extension.
More information at Install and Activate Plugins/Extensions.
Note: If a user does not already exist, you will need to create an account for them by going to "Users" > "Add New" in the WordPress Admin (add user in the role of "Customer").
Go to: WooCommerce > Products > Give Products.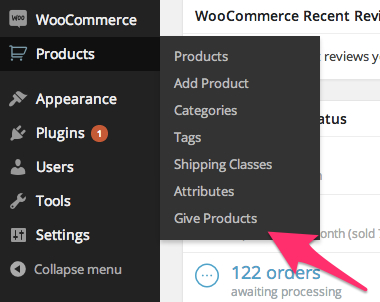 2) Enter User and Product Information
Now enter the user's information and the product information.
Add as many products as you like. When you press "Give Products" a brand new order will be created which gives the users download permissions for the products. If you have to ship the products the order will be set to processing.