Os pedidos são criados quando um cliente conclui o processo de finalização de compra e ficam visíveis para os usuários somente com as funções de Administrador e Gerente de Loja. Cada pedido recebe um único ID de Pedido.
Os IDs de Pedidos não são sequenciais, pois usam a abordagem padrão de ID do WordPress. Para números de pedidos sequenciais, você pode usar o Sequential Order Numbers Pro (disponível somente em inglês).
Um pedido também tem um Status. Os status do pedido informam o andamento do pedido, começando com "Pagamento pendente" e terminando com "Concluído". Os seguintes status de pedido são usados:
Pagamento pendente — Pedido recebido, nenhum pagamento iniciado. Aguardando pagamento (não pago).
Malsucedido — pagamento malsucedido ou foi recusado (não pago) ou requer autenticação (SCA). Observe que este status pode não ser exibido imediatamente e, em vez disso, ser exibido como Pendente até ser verificado (por exemplo, PayPal).
Processando — O pagamento foi recebido (pago) e o estoque foi reduzido; o pedido está aguardando conclusão. Todos os pedidos de produtos requerem processamento, exceto aqueles que contêm somente produtos Virtuais e baixáveis.
Concluído — Pedido processado e concluído – não requer nenhuma ação adicional.
Aguardando — Aguardando pagamento – o estoque é reduzido, mas você precisa confirmar o pagamento.
Cancelado — Cancelado por um administrador ou pelo cliente – o estoque é aumentado, nenhuma ação adicional é necessária.
Reembolsado — Reembolsado por um administrador – nenhuma ação adicional é necessária.
Autenticação necessária — Aguardando ação do cliente para autenticar a transação e/ou concluir os requisitos de SCA.
Diagrama visual para ilustrar os status de pedidos ↑ Back to top
Esta representação visual ilustra o processamento de um pedido através de seus status de "Pagamento pendente" para "Concluído", "Cancelado" ou "Reembolsado."

Status de pedidos e métodos de pagamento ↑ Back to top
Mais sobre como os status dos pedidos relacionados aos métodos de pagamento na seção Solução de problemas.
Status de pedidos e e-mails ↑ Back to top
Saiba mais sobre os diferentes e-mails enviados automaticamente em Configurações de e-mail.
Se você estiver usando o PayPal e os pedidos permanecem como Pendente, você pode ter um problema de IPN. Consulte a seção de solução de problemas em Depurando problemas de IPN.
Como visualizar e gerenciar vários pedidos ↑ Back to top
Quando uma loja começa a receber pedidos, a página de gerenciamento de Pedidos começa a ser preenchida. Vá para: WooCommerce > Pedidos.
Cada linha exibe vários detalhes. Alguns são exibidos por padrão, outros podem ser adicionados. Estas são as opções disponíveis:
Número do pedido e nome do cliente,
Data da compra,
Status do pedido,
Endereço de faturamento,
Endereço de entrega,
Total da compra e
Ações.
Para alterar estas colunas:
Vá para: WooCommerce > Pedidos.
Selecione Opções de tela no canto superior direito.
Selecione quais Colunas exibir.
Selecione quantos Itens você deseja exibir em cada página.
Em seguida, Aplicar.
Filtrar e organizar pedidos ↑ Back to top
Filtre os pedidos por Data (mês/ano) ou por cliente cadastrado.
Selecione o mês ou procure por um cliente.
Selecione Filtrar.
Organize os pedidos em ordem crescente ou decrescente pelo Número do pedido, Data ou Total, selecionando o cabeçalho.
Observe que a coluna "Total" não leva em consideração o valor reembolsado.

Clique no número do pedido e no nome do cliente para visualizar a página Pedido único, onde você também pode Editar detalhes do pedido, Atualizar status e Adicionar notas. Mais detalhes sobre isso em: Como visualizar e editar um pedido único.
As linhas de pedidos têm um "olho" Visualizar.

Clicar em Visualizar abre um Modal, contendo o número do pedido, status do pedido, detalhes de faturamento, método de pagamento, detalhes de entrega, método de entrega, itens pedidos e a opção de alterar o status do pedido.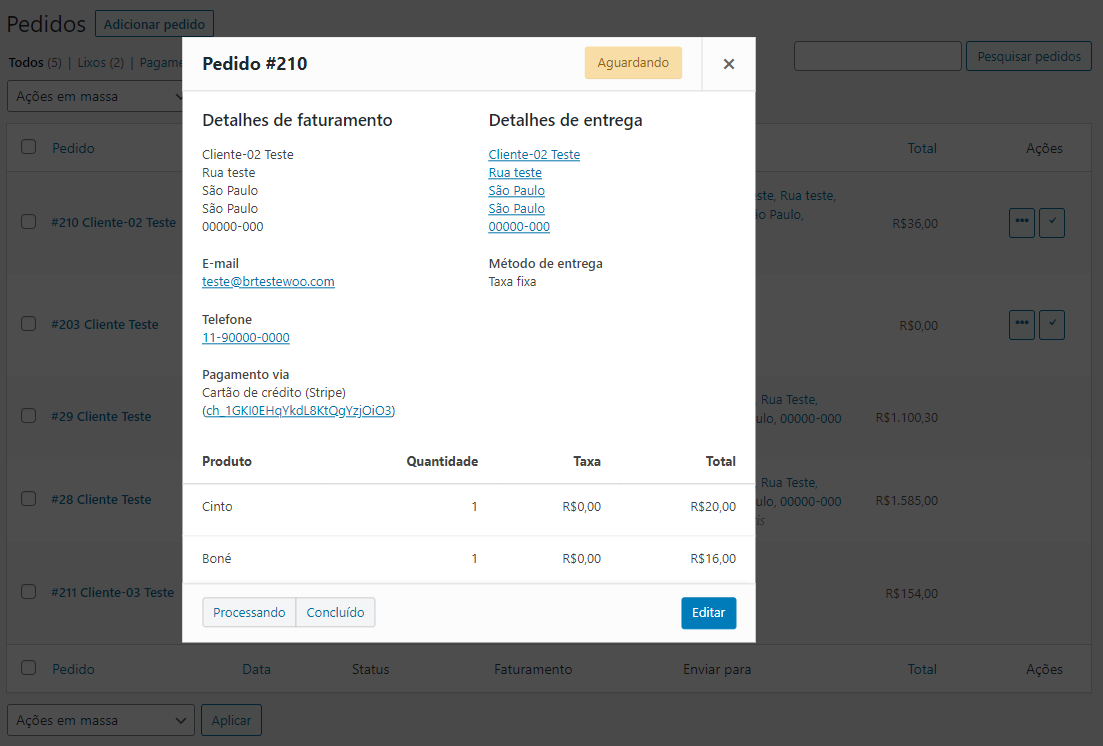 Status do pedido na visão geral ↑ Back to top
Os status dos pedidos são descritivos e codificados por cores.
Cancelado – Cinza
Concluído – Azul
Malsucedido – Vermelho
Aguardando – Laranja
Pagamento pendente – Cinza
Processando – Verde
Reembolsado – Cinza
Posicionando o mouse sobre um Status do pedido, são exibidas as Notas feitas no pedido
No final de uma linha, existem botões de atalho para marcar rapidamente os pedidos como Processando ou Concluído.

Como visualizar e editar um único pedido ↑ Back to top
Na página Pedido único, você pode visualizar todos os dados do pedido e também editar e atualizar.
Alterar o status do pedido.
Editar os itens do pedido – modificar o produto, preços e taxas.
Estoque – Reduzir e restaurar o estoque de um pedido.
Ações do pedido – Enviar os detalhes do pedido por e-mail ao cliente (útil se você criar manualmente um pedido para seus clientes) ou Gerar novamente as permissões de download.
Modificar os Metadados do produto para editar variações do produto, removendo e adicionando metadados.
Aplicar cupons. Você precisará saber o código do cupom para aplicar ao pedido. As contagens de uso do cupom são rastreadas e os cupons também podem ser removidos dos pedidos. Nota: O pedido deve estar como não pago para que os cupons possam ser aplicados.
Adicionar taxa. Você pode inserir um valor ou porcentagem para adicionar uma taxa a um pedido. Taxas negativas dividirão as taxas entre todos os outros itens e não farão com que o total do carrinho fique abaixo de zero.
Como visualizar os detalhes do pedido
No painel Detalhes do pedido, você pode visualizar:
Número do pedido
Detalhes do pagamento
Data e horário do pedido
Status do pedido
Detalhes do cliente:

Nome de usuário e e-mail, juntamente com um link para visualizar seu perfil e outras compras que o cliente pode ter feito no passado
Detalhes de faturamento
Detalhes de entrega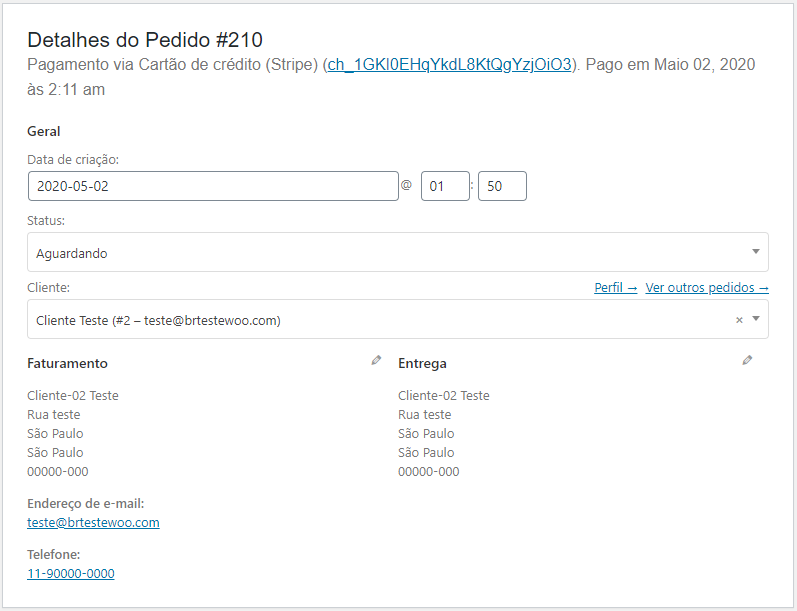 Como editar os detalhes do pedido
A maioria dos detalhes nesta seção pode ser atualizada e/ou alterada.
Para alterar a data e o horário, use o seletor de datas no menu suspenso e os seletores de quantidade para o horário.
Para alterar o status, escolha o status correto no menu suspenso.
Para alterar o cliente, selecione o cliente atual e procure pelo novo cliente.
Em "Faturamento" e "Entrega", vários outros detalhes podem ser alterados. Para fazer isso, selecione o ícone de lápis ao lado de cada um deles.
Em "Faturamento", os seguintes itens podem ser alterados:

Endereço de faturamento — também pode ser carregado no perfil do cliente, selecionando "Carregar endereço de faturamento"
E-mail
Número de telefone
Método de pagamento e detalhes

Em "Entrega", os seguintes itens podem ser alterados:

Endereço de entrega — também pode ser carregado no perfil do cliente ou copiado do endereço de faturamento
Nota fornecida pelo cliente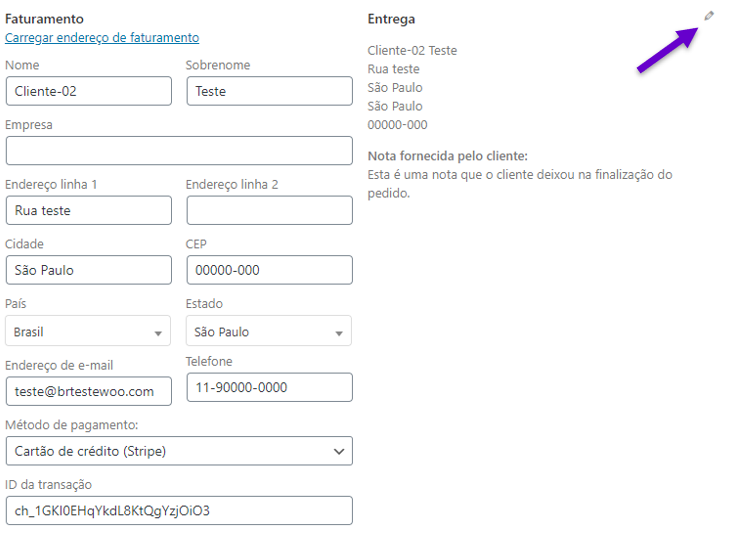 Depois de fazer as alterações necessárias, selecione Atualizar para atualizar o pedido.
Como visualizar os itens do pedido
O próximo painel na página do pedido é o painel Itens do Pedido. Este painel contém os itens do produto, os detalhes da entrega e o resumo do pedido.
Cada linha do item do produto lista:

Imagem do produto
Nome do produto
Custo de um único produto
Quantidade
Total (Custo x Quantidade, considerando os descontos)
Taxas

Abaixo disso, os detalhes da entrega são exibidos. Isso inclui:

Método de entrega
Itens na caixa
Custo total
Taxas

A última seção contém uma visão geral dos custos do pedido. Esta seção será alterada se um pedido for reembolsado. Por padrão, inclui:

Subtotal de itens — custo excluindo as taxas
Cupons — valor deduzido com base no uso de cupons; os cupons usados ​​são exibidos à esquerda nesta seção
Entrega — o custo de entrega do pedido
Taxas — o valor das taxas para todo o pedido; será substituído pelo código da taxa aplicado ao pedido
Total do pedido — o total dos custos acima
Finalmente, abaixo da linha, uma visão geral do que é pago e as taxas cobradas pelos métodos de pagamento
Como editar ou adicionar itens de pedidos
Além do reembolso, os itens do pedido não podem ser editados, a menos que o status do pedido esteja como "Pagamento pendente", ou "Aguardando."
Itens do produto. Selecione o ícone de lápis ao lado de uma linha de produtos para editar.
Os seguintes itens do produto podem ser editados:
Adicionar meta — Adicione e remova metadados para alterar as opções de variáveis ​​do produto.
Quantidade — Número de itens que o cliente está comprando.
Total — Preço da linha e taxa da linha antes dos descontos anteriores às taxas.
Taxa — Custo da taxa. Por exemplo, se um cliente é isento de taxa, você pode remover as taxas.
Outras ações. Em seguida, você pode realizar quatro ações na parte inferior desta janela:
Adicionar itens — isso exibirá seis novas opções:

Adicionar produto(s) — Adicione produtos adicionais ao pedido.
Adicionar taxa — Adicione uma taxa adicional, como embrulho de presente.
Adicionar entrega — Adicione um custo de entrega. Quando você realizar isto, selecione o ícone de lápis para atualizar o nome, o método, o custo e a taxa.
Adicionar taxa — Adicione um código de taxa adicional a cada seção do pedido.
Cancelar — Cancele se você não desejar fazer alterações.
Salvar — Salve quando as alterações forem realizadas.

Depois de realizar isto, selecione Recalcular para certificar-se de que todas as alterações sejam efetuadas nos totais do pedido.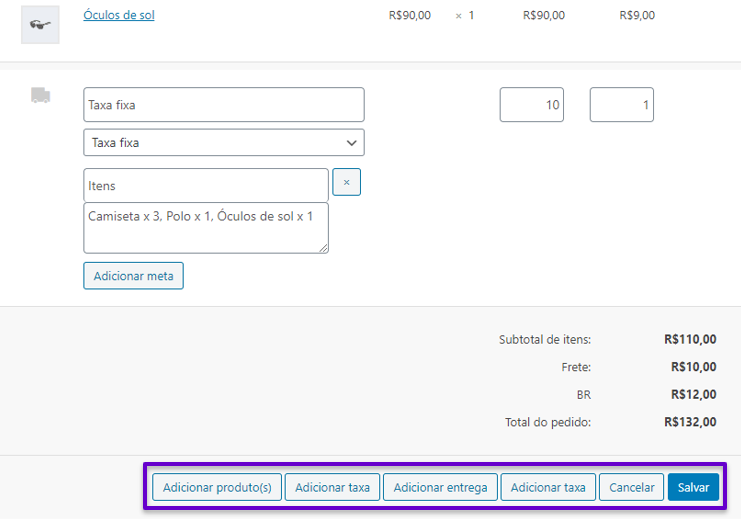 Aplicar cupom — Se o seu cliente esqueceu de adicionar o código de cupom, ou você deseja recompensá-lo antes do pagamento, selecionar esta opção exibirá um modal que permite aplicar um código de cupom.
Reembolso — para reembolsar o cliente. Para obter mais informações sobre reembolsos automático e manual, consulte Reembolsos do WooCommerce.
Para adicionar campos de metadados personalizados, use a caixa de metadados de Campos personalizados:

O painel Notas do pedido exibe as notas anexadas ao pedido e pode ser usado para armazenar detalhes do evento, como resultados de pagamento, reduzir os níveis de estoque ou adicionar notas ao pedido para os clientes visualizarem. Alguns métodos de pagamento também adicionam notas para depuração.
Os seguintes tipos de notas são possíveis:
Roxo: Notificações do status do sistema, como detalhes do método de pagamento.
Cinza: Atualizações de status gerais, como alterações de status ou notas privadas. Os clientes não visualizam estas notas, mas podem receber notificações sobre elas, por exemplo, quando o status é alterado de processando para concluído, um e-mail pode ser enviado (dependendo das configurações).
Azul: Notas para o cliente. Os clientes recebem notas via e-mail, mas podem visualizá-las em um pedido ou usando a página de rastreamento de pedidos do WooCommerce.
As notas podem ser uma ferramenta excelente para se comunicar com clientes ou outros gerentes de loja. Precisa adicionar um número de rastreamento para a entrega? O estoque está atrasado? Adicione uma nota ao cliente e eles serão notificados automaticamente.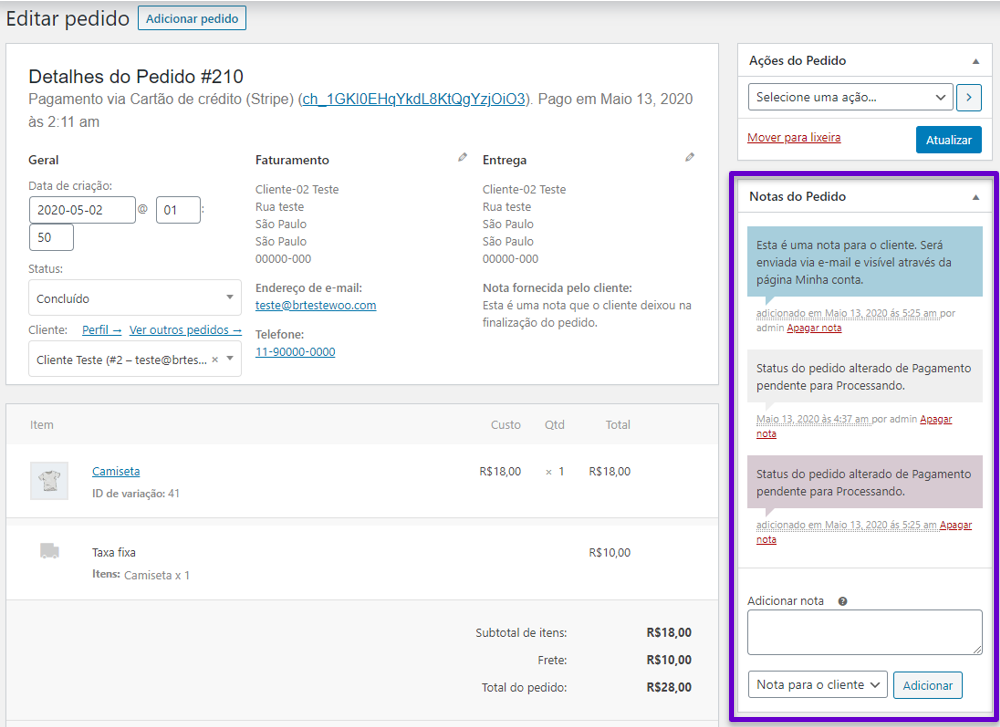 Para adicionar uma nota,
Use a área de texto para adicionar o conteúdo da nota.
Selecione Nota privada ou Nota para o cliente no menu suspenso.
Selecione Adicionar.
Como adicionar manualmente um pedido ↑ Back to top
Para adicionar um pedido:
Vá para: WooCommerce > Pedidos.
Use Adicionar novo na parte superior da página. A página Pedido único é exibida.
Insira os detalhes do cliente, adicione itens de linha, aplique os cupons, aplique as taxas e calcule os totais. Estas informações são iguais ao Como editar ou adicionar itens de pedidos.
Defina um status para o novo pedido, por exemplo, se o pedido precisa ser pago, use "Pagamento pendente."
Salvar.
Use o menu suspenso Ações do pedido para enviar detalhes do pedido via e-mail ao cliente com as instruções de pagamento.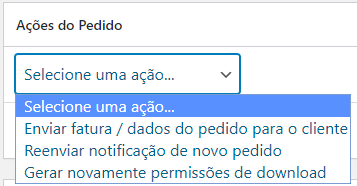 Os pedidos que estão como "Pagamento pendente" podem ser pagos através do link de pagamento.
Como gerente da loja, você pode encontrar este link na visão geral do pedido: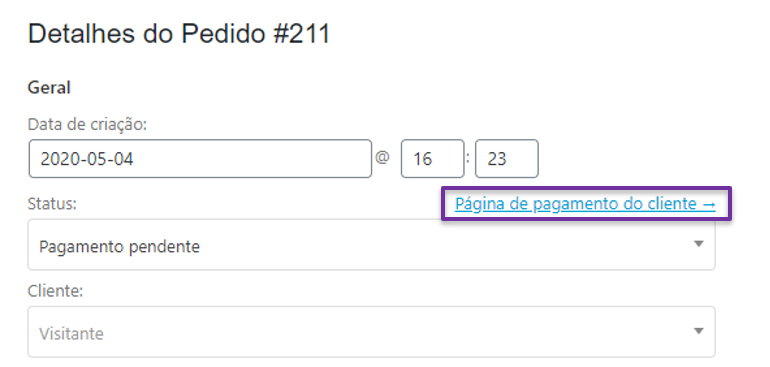 Se o cliente for um Convidado, qualquer pessoa com o link certo poderá visualizar a página de pagamento e pagar pelo pedido.
Se o cliente estiver cadastrado no seu site,

Somente este cliente poderá visualizar o link de pagamento depois de fazer o login.
O cliente também pode encontrar o pedido em: Minha conta > Pedidos.
Se o cliente estiver atribuído ao pedido, será solicitado que ele faça o login antes de pagar: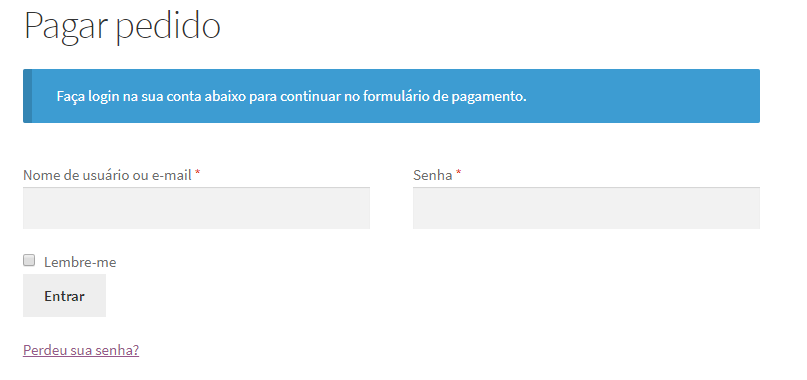 Como remover dados pessoais ↑ Back to top
A partir do WooCommerce 3.4+, é possível remover os dados do cliente.
Vá para: WooCommerce > Configurações > Contas e privacidade.
Ativar Permitir que os dados pessoais sejam removidos dos pedidos em massa.
Salve as alterações.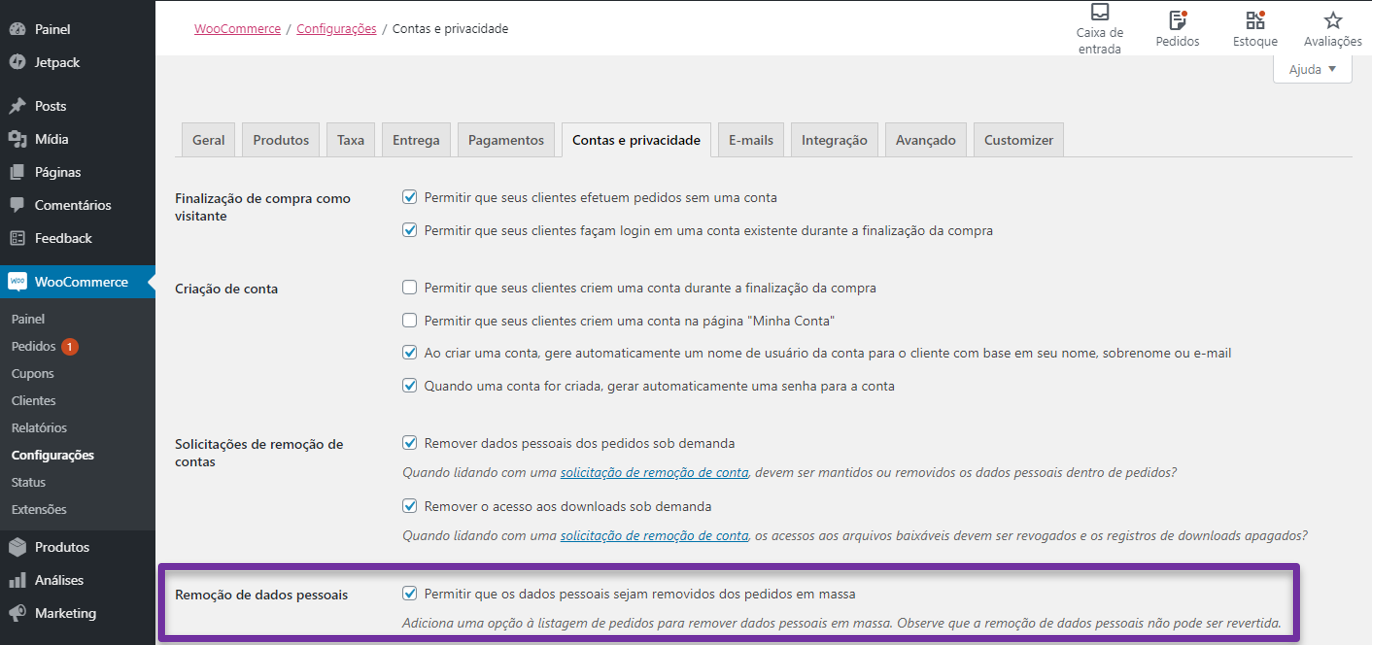 Esta opção está agora disponível para pedidos:
Vá para: WooCommerce > Pedidos.
Selecione os pedidos que precisam de dados pessoais removidos.
Selecione Ações em massa > Remover dados pessoais.
Selecione Aplicar.
Observe que, depois que você pressionar Aplicar, isto removerá os dados pessoais sem nenhum aviso adicional. Os pedidos aparecerão na tela de Pedidos desta maneira:
Em um pedido individual, os dados são atualizados desta maneira: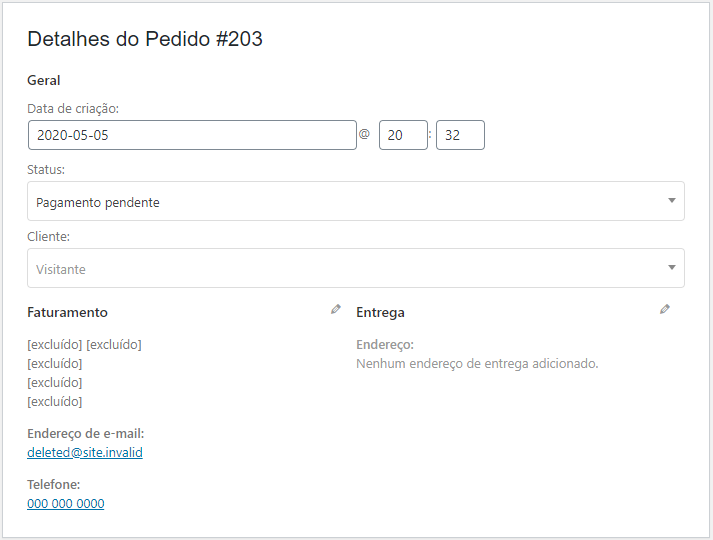 Os pedidos com status malsucedido, pendentes e cancelados que forem limpos serão movidos para a lixeira.
Os pedidos concluídos que forem limpos serão anonimizados para que as estatísticas de vendas não sejam afetadas (como acima).
Contas inativas serão excluídas. Uma conta inativa é aquela na qual não foi efetuada o login ou que não efetuou pedidos pelo tempo especificado.
A remoção de dados pessoais pode ser associada automaticamente com as solicitações de exclusão de conta. O WordPress permite excluir os detalhes do usuário, mediante solicitação em Ferramentas > Apagar dados pessoais. Esta remoção também pode ser associada aos pedidos deste usuário.
Vá para: WooCommerce > Configurações > Contas e privacidade.
Em Solicitações de remoção de contas:

Ative Remover dados pessoais dos pedidos sob demanda, se você também desejar remover os dados do pedido quando isso for realizado.
Ative Remover o acesso aos downloads sob demanda, se o cliente não puder mais acessar os links de download depois que seus dados pessoais forem removidos.

A retenção de dados pessoais também pode ser automatizada.
Vá para: WooCommerce > Configurações > Contas e privacidade.
Em Retenção de dados pessoais, defina os limites para contas inativas e para pedidos com diferentes status.
Salve as alterações.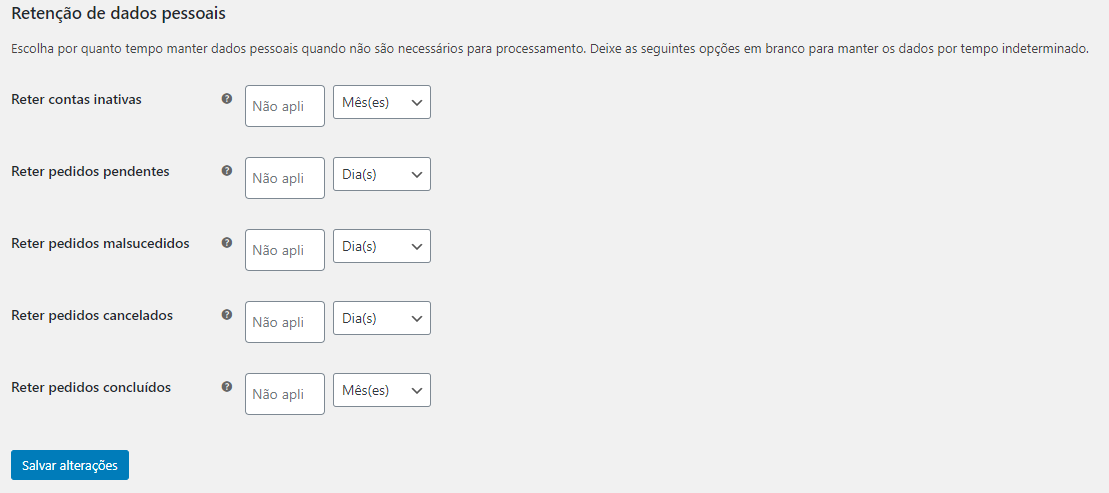 Se ativada, esta limpeza será executada através de um cron job diário. As contas inativas são rastreadas usando metadados e somente as contas de assinantes/clientes são removidas.
A partir do WooCommerce 3.4+, existe um widget que aparece no Painel que exibe as informações sobre os pedidos de todos os sites. Você pode clicar em um pedido para ir direto aos detalhes do pedido neste site.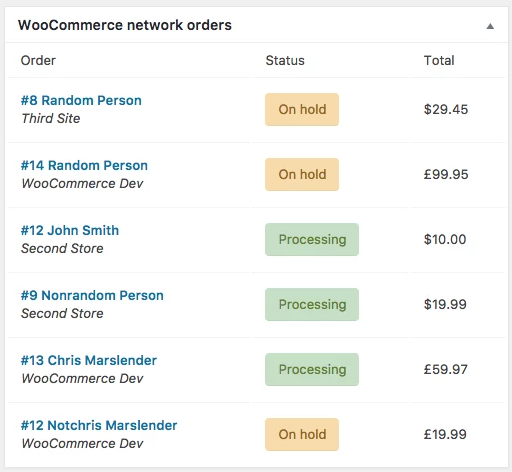 Como compreender os status de pedidos relacionados aos métodos de pagamento ↑ Back to top
Status
Descrição
Comentários do método de pagamento

AGUARDANDO

Aguardando pagamento – o estoque é reduzido, mas você precisa confirmar o pagamento.
Normalmente é visualizado com os métodos de pagamento quando você precisa confirmar manualmente, como BACS (transferência bancária) ou cheque.

Você também visualizará isto quando o método de pagamento estiver definido para autorizar, em vez de capturar um faturamento: o proprietário da loja precisará alterar manualmente o status para processando.

PENDENTE

Pedido recebido (não pago).
A maioria dos métodos de pagamentos informará e definirá o status do pedido como Processando (pagamento realizado com sucesso) ou Malsucedido (pagamento malsucedido). Se a loja nunca receber nenhum dos sinais, ela manterá o status Pendente.

Isto costuma ser uma configuração incorreta dos URLs de notificação de pagamento ou um conflito de plugin.

PROCESSANDO

O pagamento foi recebido e o estoque foi reduzido – o pedido está aguardando conclusão. Todos os pedidos de produtos requerem processamento, exceto aqueles produtos que são somente digitais e baixáveis.
Se o pagamento foi realizado com sucesso e o pedido não conter produtos Digitais ou Baixável, o pedido será definido como Processando.

Este é o sinal do proprietário da loja ou do armazém para enviar o pedido e marcá-lo manualmente como concluído.

CONCLUÍDO

Pedido processado e concluído – não requer nenhuma ação adicional.
Isto normalmente não é interessante porque tudo foi realizado corretamente.

MALSUCEDIDO

Pagamento malsucedido ou foi recusado (não pago).
O pedido pode ser cancelado manualmente, mas este status pode aparecer se a janela de pagamento expirar. Isto pode acontecer por alguns motivos:

O pedido foi abandonado antes do pagamento ser concluído.
A janela Manter estoque expirou sem uma resposta.
Mesmas razões que Pendente

AUTENTICAÇÃO NECESSÁRIA

O cliente deve preencher os requisitos para SCA.
Isto pode ocorrer quando:

um novo cliente efetua uma compra
uma assinatura existente é renovada