Restricts users of certain countries with the help of WooCommerce geolocation from accessing your eCommerce website or selected products and categories.
Download GEO IP for WooCommerce from your WooCommerce dashboard.
At the WordPress admin panel, go to Plugins > Add New > Upload and select the ZIP file you just downloaded.
Click Install Now, and then Activate Plugin.
To access plugin settings, navigate to WooCommerce > Settings > GEO IP > Add New Rule.
Rule name: Set the custom rule name. It is compulsory in order to save the rule.
Rule priority: Set the priority of the rule. If more than one rule is applied on the same item then a rule with high priority will work.
Block site after API limit: Enable or Disable the whole site after the API Limit is reached. (10 queries per second)
API limit reached message: Include a customized error message when the API limit is reached.
Start date: Choose the start date of the specific rule.
End date: Set the end date of the specific rule.
Block whole website: Click on the checkbox to block the whole website. Restricted country users will not be able to see the website.
Rule message: You can choose between Default or Customize message. It will be shown to the restricted user.
Exceptional IP: Include exceptional IPs to allow visitors from specific IPs. These IPs will not be blocked or redirected.
Status: You can Enable/ Disable the WooCommerce GEO IP rule.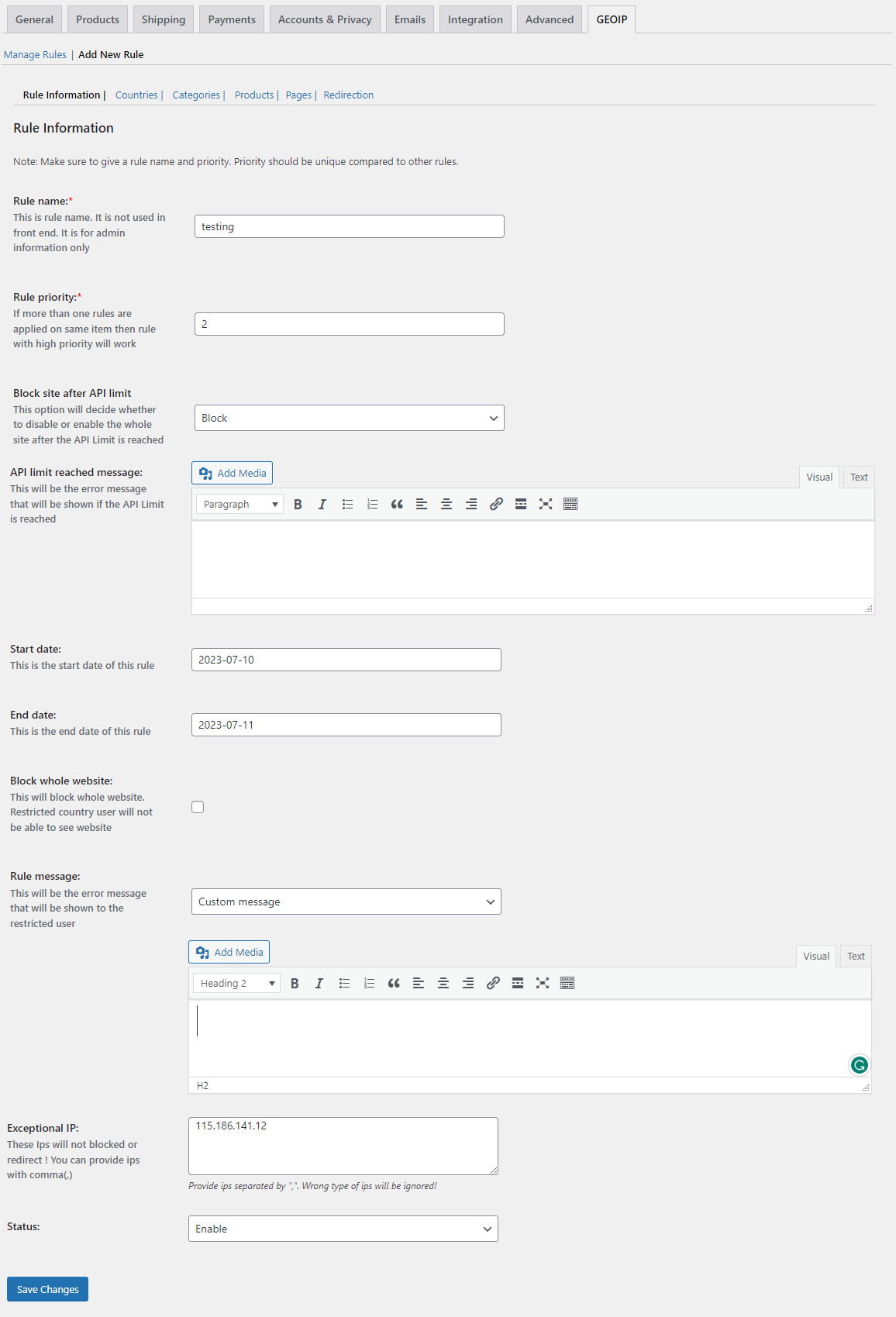 Check entire regions or specific countries to block from visiting the site or uncheck to allow.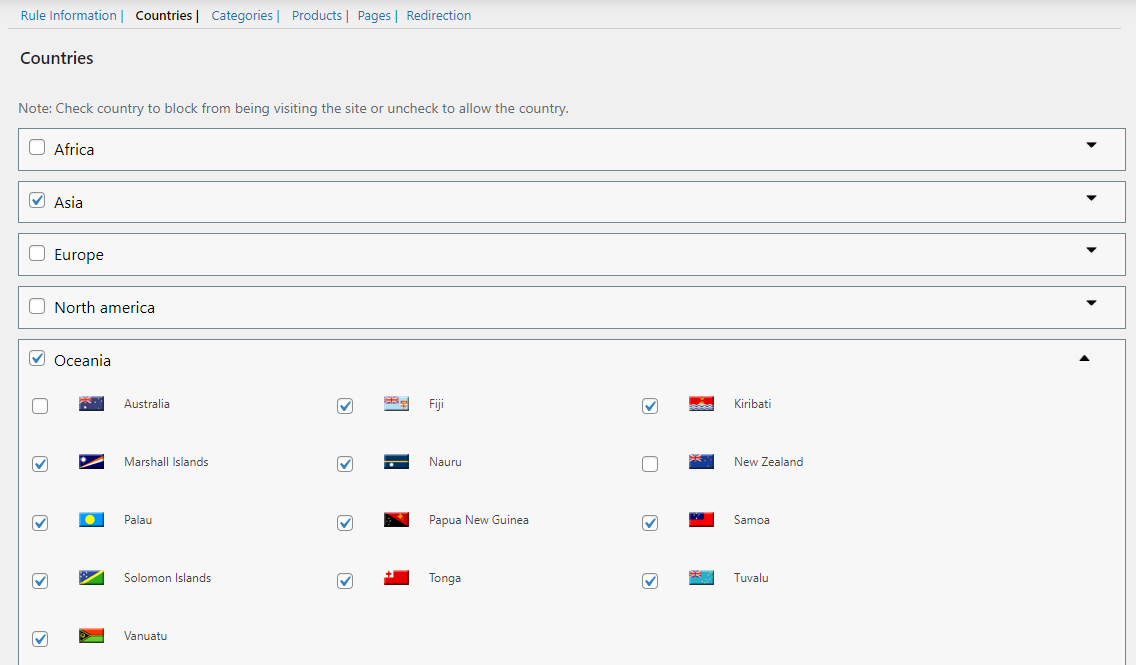 You can select the specific categories to hide from the users coming from a restricted area. Enter the ID number of categories or select from the table.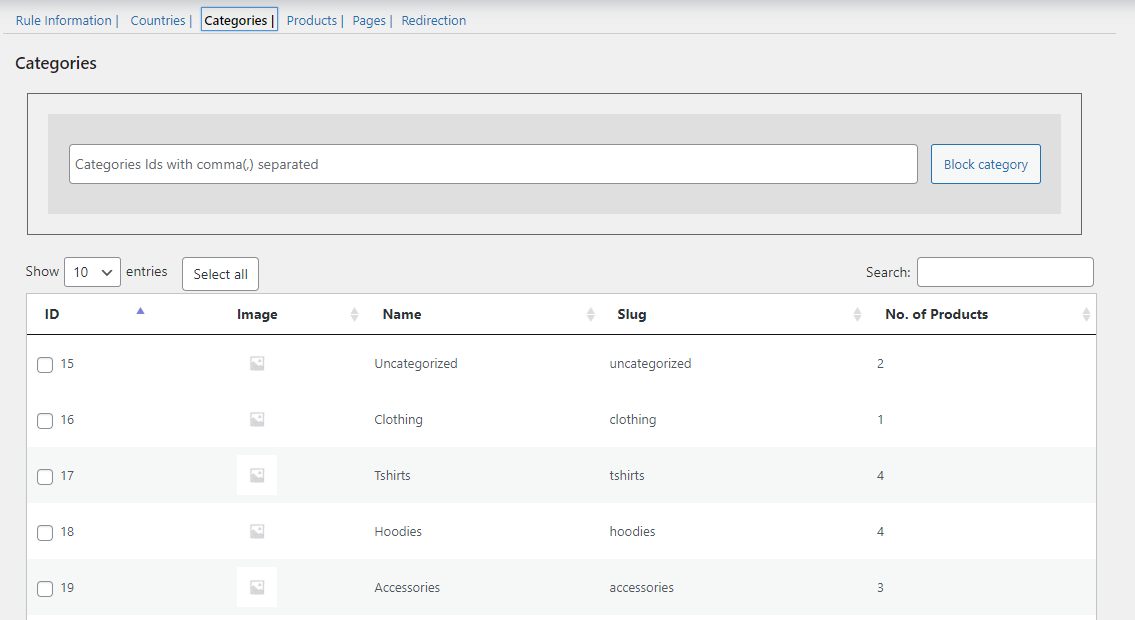 You can hide specific products from users coming from a restricted area. The ID of the products can be entered manually or selected from the table.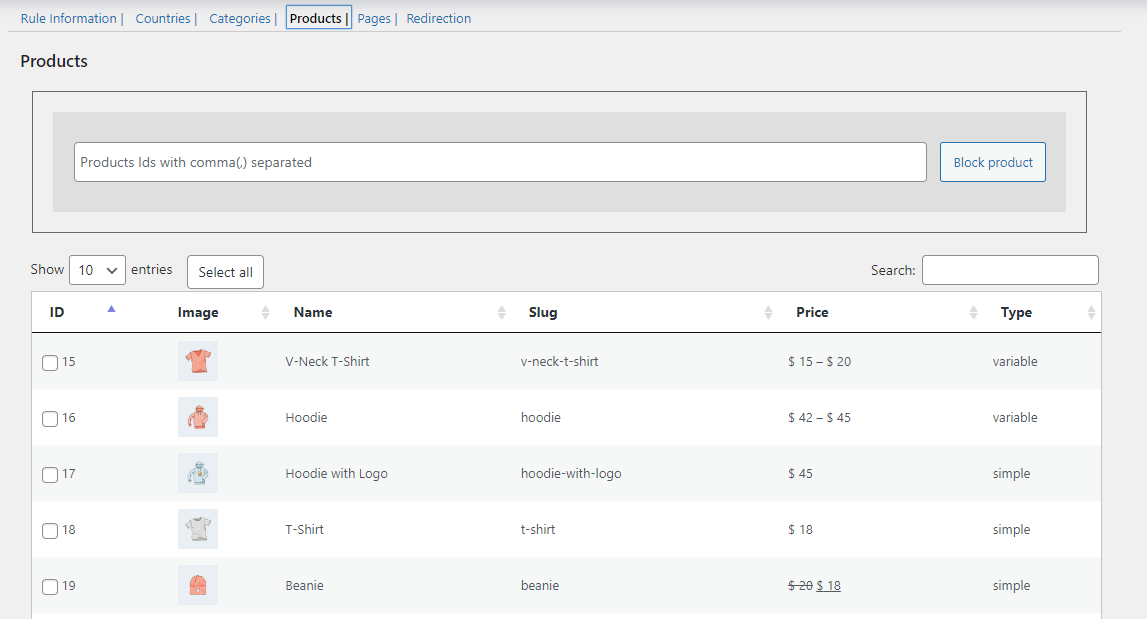 Users coming from restricted areas can be blocked from viewing specific pages. Choose from the table or enter the ID of the products.
Enable redirection: Checkbox to enable the redirection. Users from a specific country will be redirected to the specified URL.
Add Countries: Add a specific country from which the users will be redirected.Redirect URL: Insert the URL on which the user from a specific country will redirect. However, you can checkbox to redirect all except countries listed.