Download the .zip file from your WooCommerce account.
Go to: WordPress Admin > Plugins > Add New and Upload Plugin with the file you downloaded with Choose File.
Install Now and Activate the extension.
More information at: Install and Activate Plugins/Extensions.
To set up your store with Phone Orders and Payments:
Install and activate the extension (as above)
You will see a notice that the extension has been activated with a button to configure the settings. Alternatively go to WooCommerce > Settings > Payments > Phone payments
Fill in the settings as required, as a minimum we recommend filling in the instructions field, read the descriptions under each setting for further details, once done save changes
Now when adding an order via WooCommerce > Orders > Add order you will see a phone order toggle, click this to flag an order as by phone
If you have enabled virtual terminals and/or card machine terminals via the settings you will see these options appear to take payment under the "Billing" heading
Remember that customers can also checkout via the website and select phone payment as an option (this can be disabled through the settings if required)

On the front end customers will see a phone payment option during checkout, when this is selected and the order is placed the customer will see your phone payment instructions on the order confirmation page and within their order email.

You can manage a customer's phone order (or add phone orders for customers who call without using the website) via WooCommerce > Orders > Add order.
Simply check the Phone order checkbox to flag the order as a phone order (this will automatically be checked for customer placed phone orders). If you have enabled virtual terminal and/or card machine terminal payments in the settings you will see options to take payment on behalf of the customer.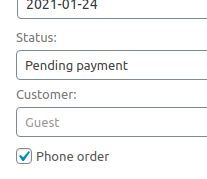 Your virtual terminal URL is provided to you by your payment provider, this can usually be found on your payment provider's website or by requesting this from them.
This extension opens your payment provider's virtual terminal and/or allows you to enter payment you have taken from card machine terminal. This extension does not store any payment details within WooCommerce other than the transaction ID which you can optionally enter. Using a virtual terminal and/or card machine terminal may mean your business is required to be PCI compliant as you are taking payment on behalf of a customer, to check if you should be PCI compliant we recommend discussing this with your payment provider or a PCI compliance specialist.
Yes, see WooCommerce > Settings > Payments > Phone payments to hide the phone payment option on checkout.