WooCommerce Quantity Discounts plugin allows you to offer various discounts based on product quantity ranges or you can also set price per quantity. You can create a pricing table and assign it to specific products or categories. You can also restrict it to specific user roles.
Download WooCommerce quantity discounts  .zip file from your WooCommerce account.
At the Admin Panel, go to Plugins > Add New and Upload Plugin with the file you downloaded after purchase.
Install  and Activate the extension.
More information at: Install and Activate Plugins/Extensions.
How to Configure WooCommerce Quantity Discounts? ↑ Back to top
To start the configurations for this extension, go to WooCommerce > Settings > Quantity Based Discounts at the admin panel and click the "Quantity Rules".
In the "Quantity Rules" tab, you can see all the created quantity rules. You can edit and delete any rule from here.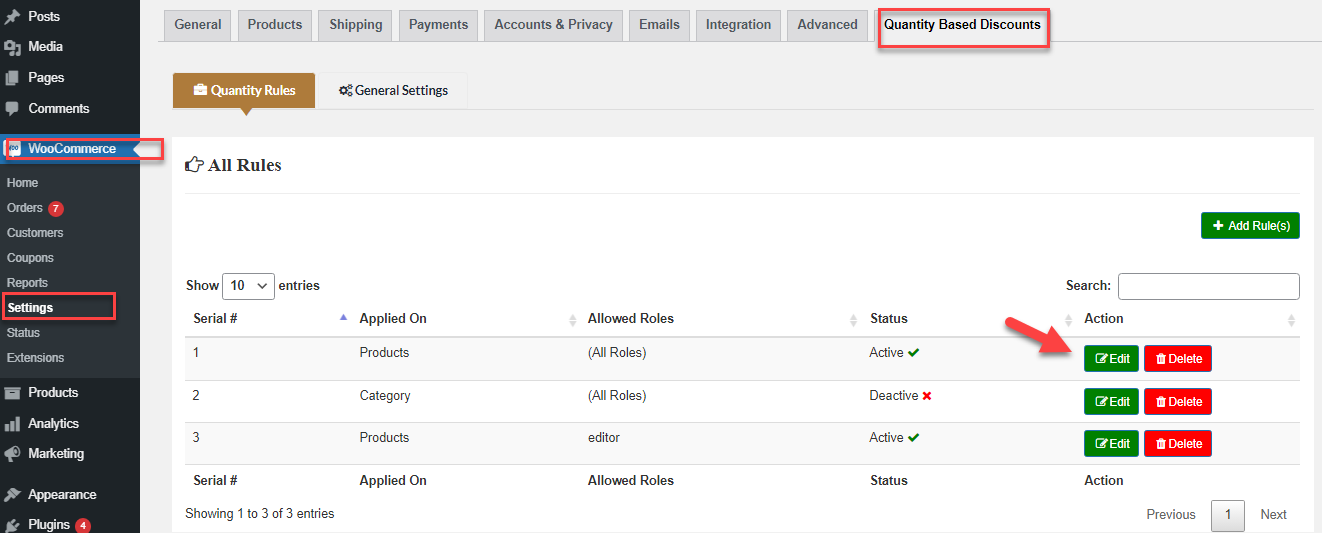 Add the Rule
Now click "Add Rule(s)" to create a pricing table for quantity discount.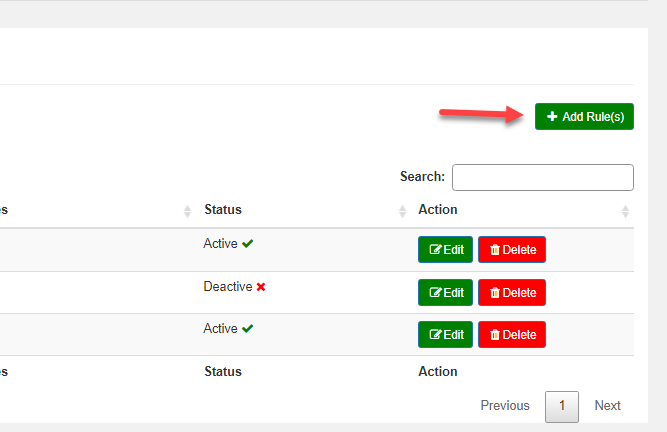 After clicking the "Add Rule(s)", you have a choice to create either Quantity Ranges or Price per Quantity based rule.
Quantity Ranges based Rule ↑ Back to top
In quantity ranges based rule, you can on the "Activate Rule" to enable this rule. Then click "Add Range(s)" to add the range and you can click it multiple times to add several ranges. In each range, you can specify the minimum and maximum product quantity and select the discount type such as  Fixed Discount, Percentage Discount, and Discounted Price. Then set the "Discount Amount" based on the discount type you have selected.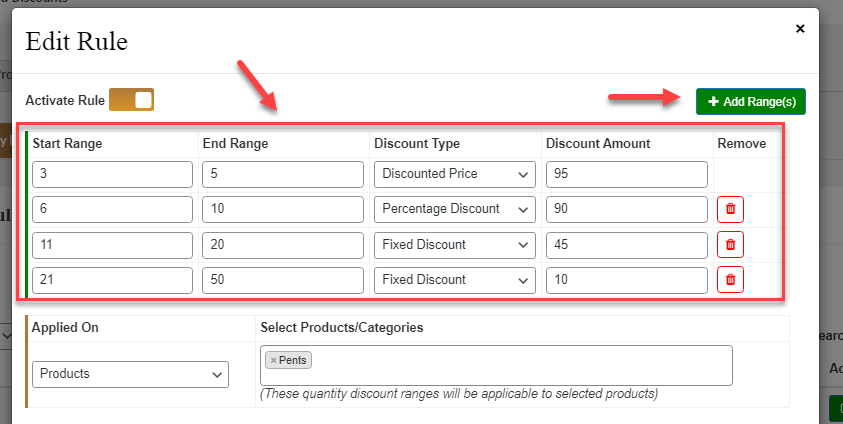 You select "Products" or "Categories" to which you want to apply this rule. And, you can also select the "User Roles", if you want to restrict this rule to specific user roles. You can enable this rule for "Guest Users" as well. After configuring the rule, click the "Save" button to save the rule.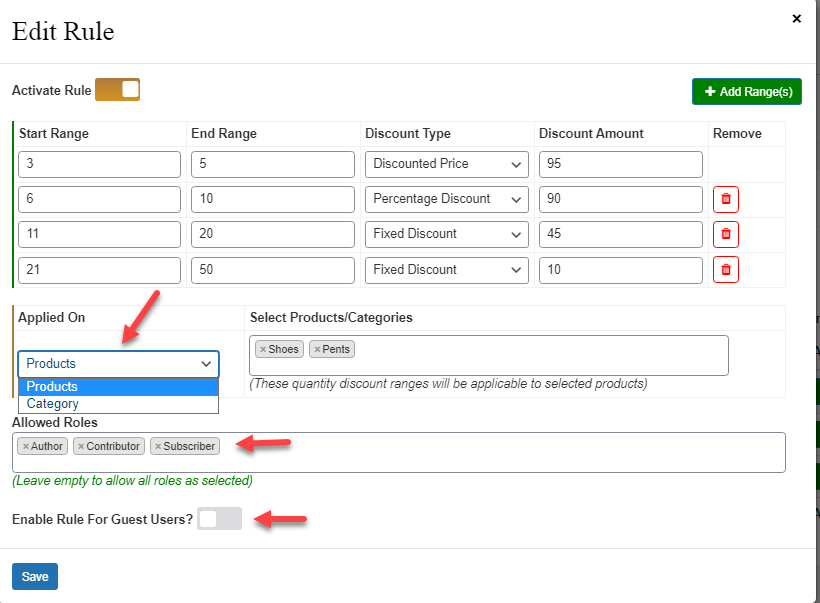 Price per Quantity based Rule ↑ Back to top
In the price per quantity rule, you can set a different price for each product quantity. Click the "Add Quantity(s)" button to add multiple quantities and set the discount either fixed, percentage, or discounted price. You can also apply this rule to specific products, categories, and user roles.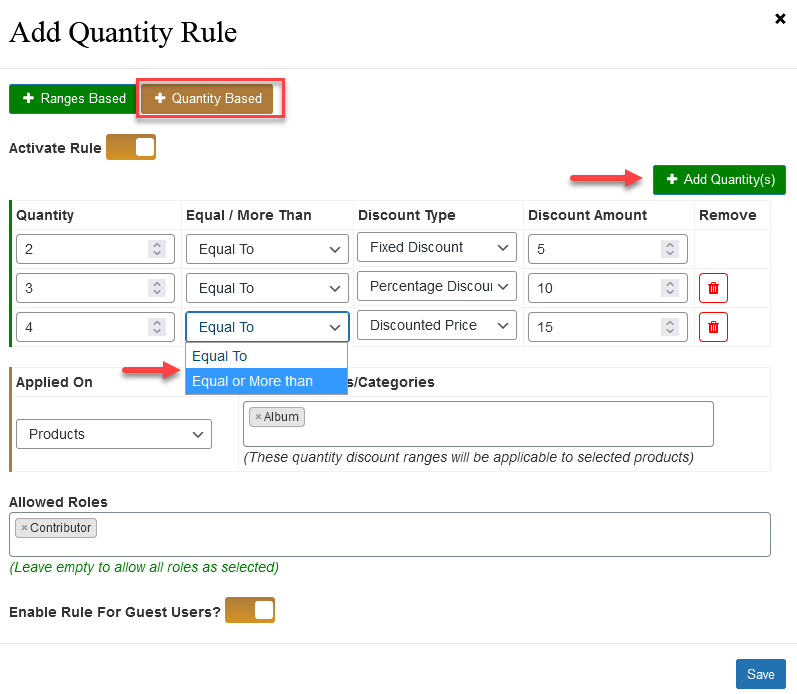 General Settings

In general settings, you can enable dynamic price change on product page, show the starting price on shop and product page, and customize the text for starting price as well.

You can customize the pricing table to your theme accordingly. You can set the table head color, background color, text color, etc. You can also set the padding and choose the table position such as Before or After add to cart, or After product summary. Check the columns you want to show in pricing table.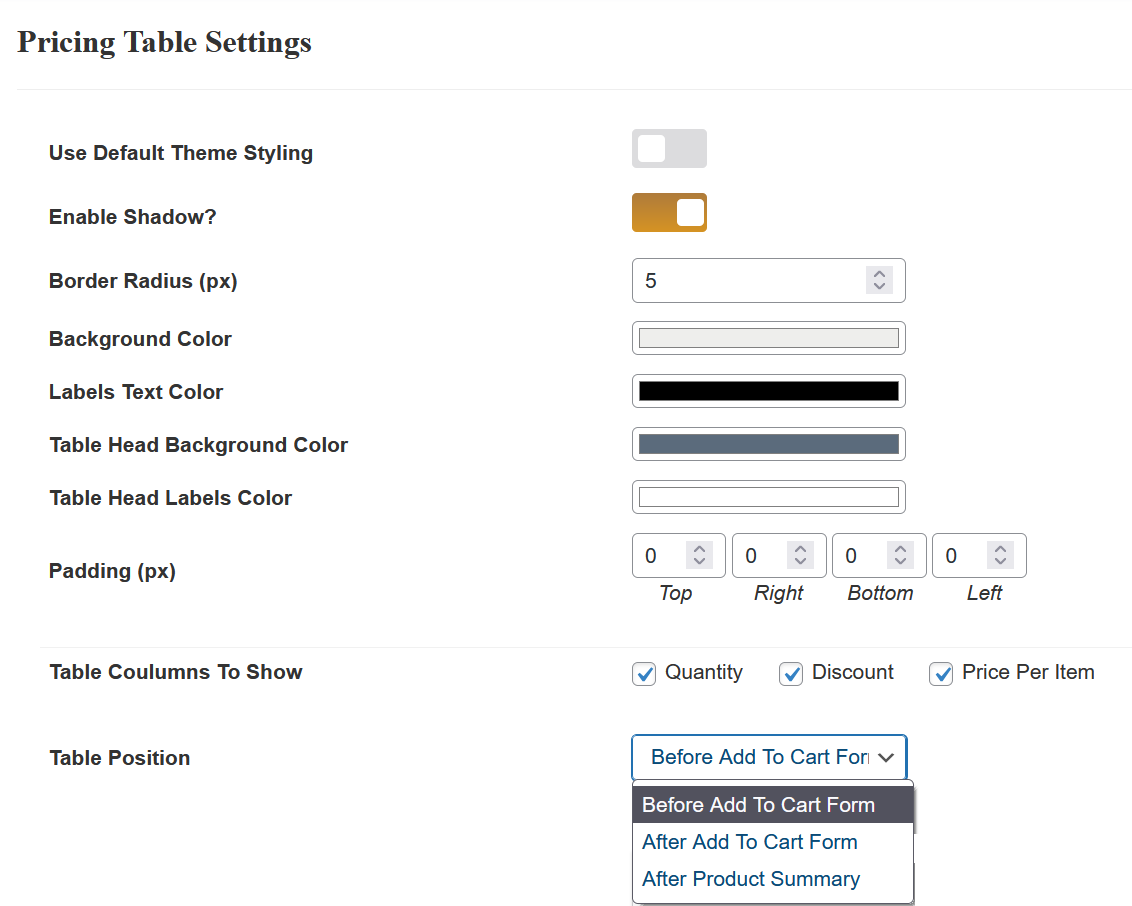 You can also add the text before or after the pricing table using the WYSIWYG editor.