Smart Coupons provide a powerful, "all-in-one" solution for gift certificates, store credits, discount coupons, and vouchers extending the core functionality of WooCommerce coupons.
This doc article explains how you can configure a coupon such that it can be applied automatically to the cart.
There can be many occasions when you want to auto-apply or force-apply a coupon for every purchase on your store, for example: during a sale period, holiday season, anniversary, etc.
Steps to create/set auto-apply coupons: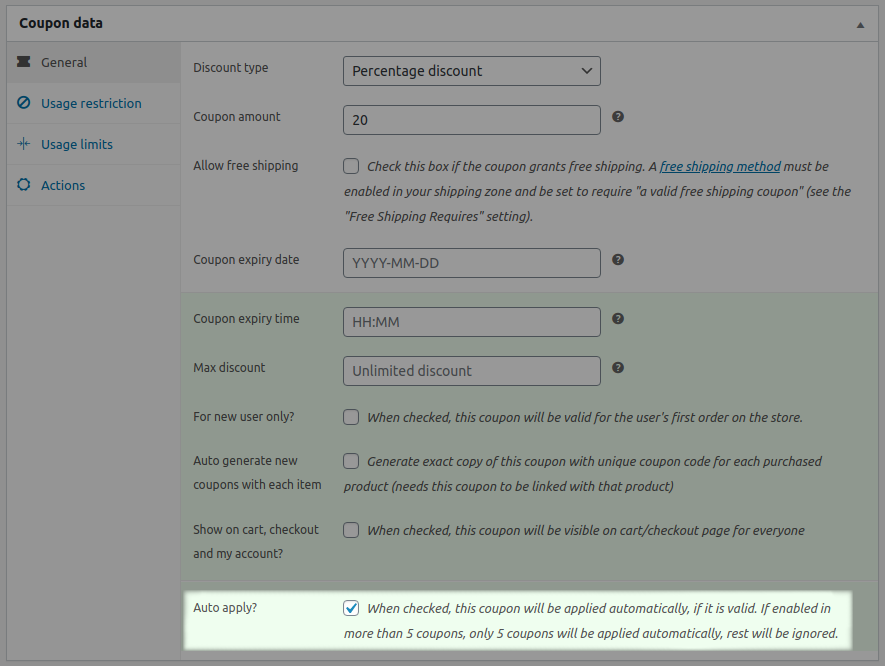 Go to WooCommerce > Coupons
Either add a new coupon or open an existing one for editing
Look for Auto apply? under Coupon data > General tab
Enable it and save the coupon. That's it.
Important:
Smart Coupons will check the validity of the coupon before applying. If any auto-apply coupon is not applying, make sure that it's valid for the cart.
If you've enabled this setting in more than 5 coupons, the plugin will consider only the first 5 coupons on which this setting was enabled.
Customers will not be able to remove auto-applied coupons from the cart.