Fomo for WooCommerce
synchronizes store sales with Fomo to automatically display recent purchases in real-time on your website.
Note: This product is no longer for sale at WooCommerce.com. Documentation is not being updated.
Sign up for a free trial during Setup and Configuration (below) or go to usefomo.com and register for an account:
www.usefomo.com/app#!/auth/register
Download Fomo for WooCommerce from WordPress.org.
Go to: WordPress Admin > Plugins > Add New and Upload Plugin with the file you downloaded with Choose File.
Install Now and Activate the extension.
More information at:
Installing and Managing Plugins
.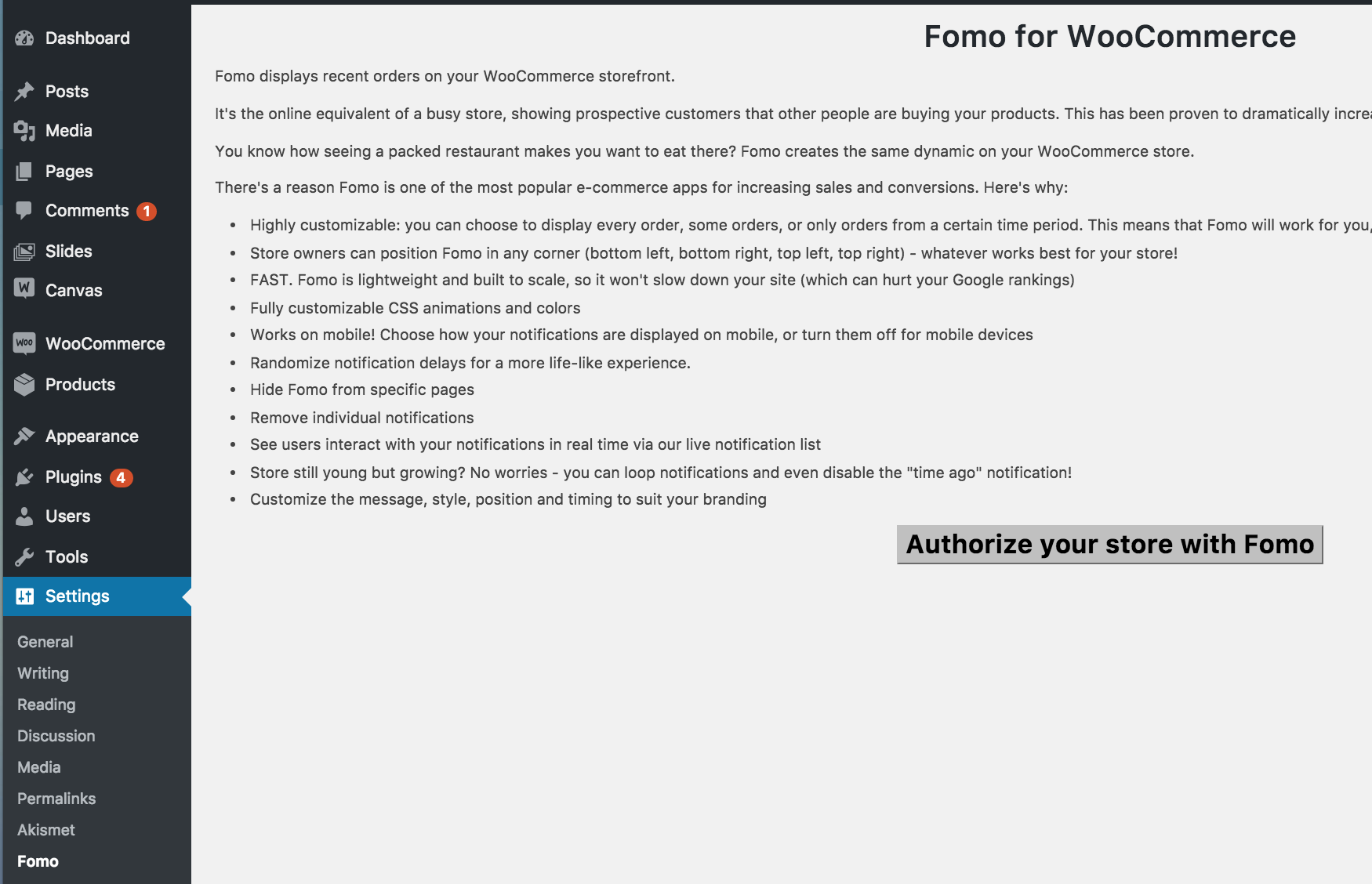 1/ Go to: Dashboard > Settings >Fomo.
2/ Select
Authorize your store with Fomo
. 3/ Select
Go to Fomo Administration
.
4/ 
Sign up for a free trial
. This automatically connects
your Fomo account with our application to initiate the most recent order sync. See the Billing section for info on privacy, charges and canceling service.
Or if you have an existing Fomo account, be sure to log in and your WooCommerce store will automatically connect in step #3. 5/ 
Use
the Fomo dashboard menu to enter text and configure settings:
Message & Basics: Customize the merge variables used in your live notifications.
Design & Settings: Tweak the look and feel of your Fomo widget.
Fomo Live: Fomo Live: On-demand records are kept of every impression and every click on your notifications. When you have enough metrics — usually around 300 clicks — Fomo can sync with Google Analytics to show direct purchase attribution.
Events: Shows a live feed of recent purchases and reviews that are currently streaming on your website. Optionally delete individual items from being displayed.
My Account: Subscribe/Unsubscribe from the monthly charge.
Fomo for WooCommerce is ready to display 'recently purchased' messages on your WooCommerce store/site.
What the customer sees on the front end.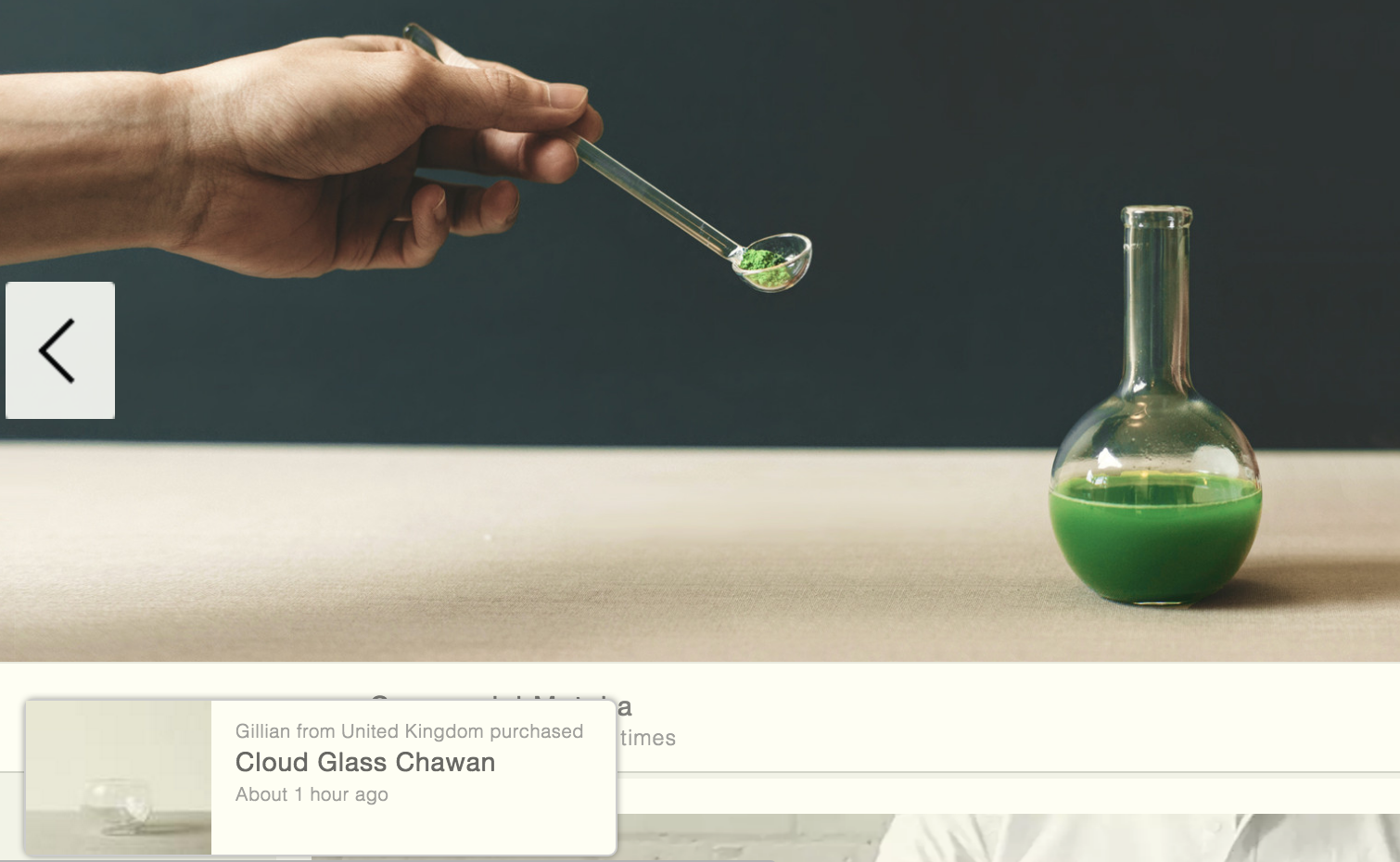 Fomo automatically charges your credit card $14.99/month, after the initial 7-day free trial. We offer a money-back guarantee if you're unhappy for any reason.
Billing is handled by Stripe.com, a secure payment gateway.
Fomo does not store your financial details; only the last 4 digits of your credit card, and your registered billing name, email, and zip code are maintained for record-keeping.
Deleting Fomo for WooCommerce extension from your store will disable Fomo and cancel your billing agreement. Or you can go to My Account in your Fomo dashboard and unsubscribe.
Not at all. Fomo will loop through prior orders, as many days in the past as you like, to maintain a live atmosphere, regardless of sale volume.
Fomo purges the cache and uses new settings every 40 seconds. If more than a minute has passed and you don't see new settings in effect, it's possible that your web browser has saved old settings. Refresh your browser cache to see changes immediately.
With every new purchase, WooCommerce communicates key details (first name, city, etc.) to Fomo. And whenever you update the Display threshold or other timing settings, Fomo triggers a fresh import of sales.
Already purchased and need some assistance?
Get in touch with a Happiness Engineer
via the Help Desk.