Theme Upload and Activation ↑ Back to top
Go to your WooCommerce.com account Downloads page. Click the download icon to get a compressed urban-wear.zip file on your computer.
On your website, go to Appearance > Themes and click the Add New button.
Click Upload to upload the urban-wear.zip file you downloaded in step 1.
Go to Appearance > Themes to Activate.
Once activated, you will be redirected to the theme setup page. Follow the steps and set up your theme, install the WooCommerce plugin and import the demo content available with the theme.
You can find the Theme Setup Wizard under Appearance > Theme Setup in case you decide to return to the dashboard and continue with it later.
Deep Diving:
There is an easy way to create the demo pages you are missing. These page layouts are available as block patters, which means you can apply an existing template when creating a new page. This short video here will show you what you should be looking for on your screen:
If you are new to the WordPress Block Editor, here is an article that will show you how to use the it and master it to create visually stunning blog posts and pages:
All the theme's customization settings can be found under Appearance > Customize. This is where you go to upload a logo, change color or fonts.
Missing options?
We are doing our best to help all our customers and improve their experience with the theme. Let us know if there is something we can improve and we will seriously take into consideration your feedback and suggestions.
Contact Support
Under Appearance > Customize > Site Identity, you can:
Upload a logo and adjust its size
Update the Site Title and the Tagline
Upload a Site Icon
Under Appearance > Customize > Fonts, you can:
Choose a different Font Family — Urban Wear supports all fonts on Google Fonts and all web safe fonts.
Adjust the Base Font Size — The Base Font Size refers to the size applied to the paragraph text. All other elements, such as headings, links, buttons, etc will adjust automatically to keep the hierarchy of font sizes based on this one size.
Using Web Safe Fonts
Web-safe fonts are fonts that can adapt to any browser on any device. By using these types of fonts, web designers and developers ensure that the intended font will always display properly on a web page, even if these fonts aren't installed on the user's computer.
The following fonts are the best web safe fonts for HTML and CSS:
Arial (sans-serif)
Verdana (sans-serif)
Tahoma (sans-serif)
Trebuchet MS (sans-serif)
Times New Roman (serif)
Georgia (serif)
Garamond (serif)
Courier New (monospace)
Brush Script MT (cursive)
Using Google Fonts
Thanks to the Google Fonts library, we have access to a web repository of over 900 quality fonts ready to use. They're free to use (even for commercial projects), pre-hosted (so they won't take up your server's resources), and downloadable (you can use them in print).
How to manually install Google Fonts on your WordPress website:
Step 1: Find the font you want to add to your website
To get started, browse the Google Fonts directory and choose the font you want to use on your WordPress website. If you already have a specific typeface, you can simply search for it using the search box in the right sidebar.
Once you know which font you're going with, copy its name and return to your website's Customizer settings.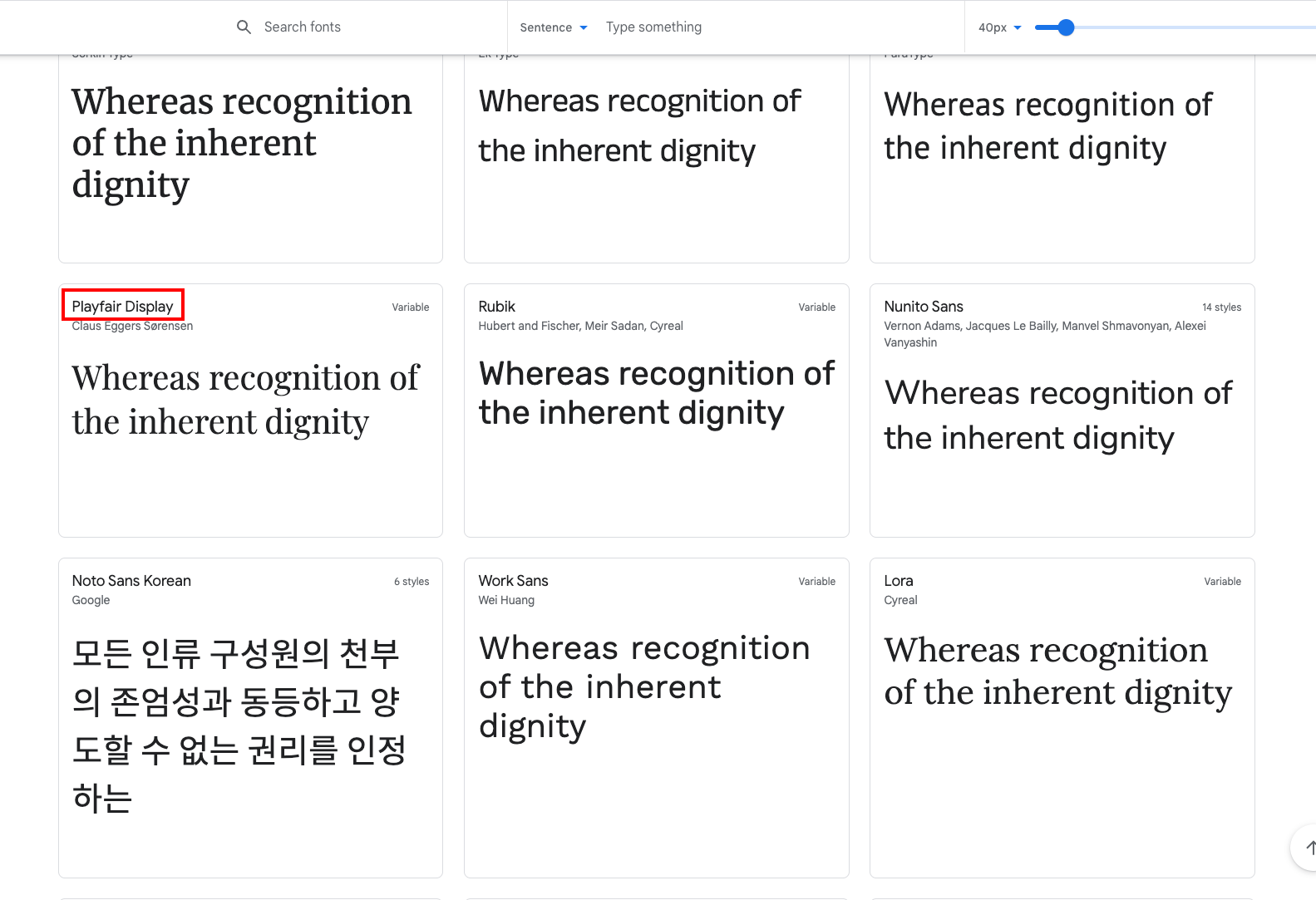 2. Insert the Google Font's name into the Base Font Family field
Make sure you use the exact name of the font as it is called in Google Fonts.
Publish your Customizer changes and visit your site. The selected Google Font should now load and apply into your pages.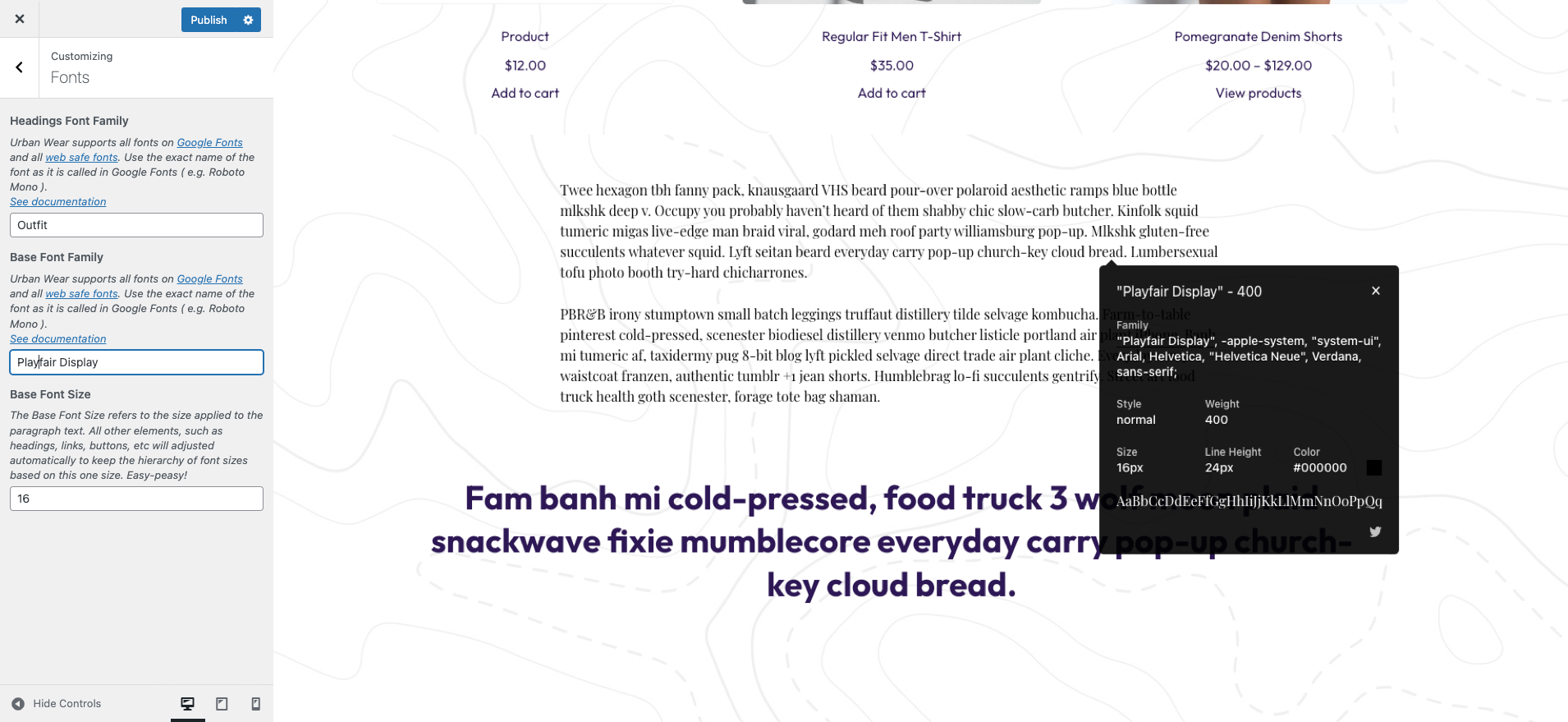 Using Custom Fonts
In order to use a custom font, you need a plugin that helps you easily embed the custom fonts files (woff2, woff, ttf, svg, eot, otf) in your WordPress website. The Custom Fonts plugin or the Use Any Font plugin should do the trick. Once you successfully embedded the font files, all you need to do it change the font name under Appearance > Customize > Fonts > Base Font Family.
The theme's color palette consists of 6 colors which can be changed via Appearance > Customize > Colors. The colors defined here are being applied automatically across the site.
Under Appearance > Customize > Header, you can:
Show/Hide 'My Account' icon
Under Appearance > Customize > Footer, you can:
Show/Hide Back-To-Top button
Using this section, you can choose to upload two background images that will be applied throughout the site.
The Light Background Image will be applied as a global background for all pages.
The Dark Background Image is applied on the header and the footer.
Under Appearance > Customize > WooCommerce > Product Catalog, you can:
Set product pagination type (classic or Load More button)
The theme comes with two menu locations:
The main navigation available in the header.
The mobile navigation – which can be turned on/off for desktop as well and used in conjunction with the main navigation.
Menus can be created and assigned their respective menu location via Appearance > Menus.
Additional options for the Mobile Menu can be found under Appearance > Customize > Mobile Menu.
The theme comes with two widget areas. One for the Shop Filters and one for the Footer. Both can be managed via Appearance > Widgets.
Once you connect your site and WooCommerce.com account, you will receive update notifications in your WordPress dashboard as soon as they're made available allowing you to update the theme with one click or set up automatic updates.
If you still need to manually update your theme, follow the details at Updating Your Theme.
A WordPress child theme is a theme that inherits the functionality of another theme called the parent theme. Child themes allow you to modify, or add to the functionality of that parent theme.

WordPress Theme Handbook: Child Themes
You first need to install and set up Urban Wear theme and then Urban Wear Child afterwards.
Here is a list of theme predefined classes that may help you with a little extra customization when working on your blocks. Simply add them via Block > Advanced > Additional CSS class(es)
| Class | Explanation |
| --- | --- |
| .alignwider | width: 100%; (Intermediary width between full and wide widths, same as the Shop page) |
| .text-left | text-align: left; |
| .text-center | text-align: center; |
| .text-right | text-align: right; |
| .headings-font | font-family: {Headings Font Family}; |
| .body-font | font-size: {Base Font Family}; |
| .heading-size-1 | font-size: {H1 Font Size}; |
| .heading-size-2 | font-size: {H2 Font Size}; |
| .heading-size-3 | font-size: {H3 Font Size}; |
| .heading-size-4 | font-size: {H4 Font Size}; |
| .heading-size-5 | font-size: {H5 Font Size}; |
| .heading-size-6 | font-size: {Customizer Base Font Size}; |
| .bold | font-weight: bold; |
| .uppercase | text-transform: uppercase; |
| .label-size | font-size: small; |
| .meta-size | font-size: small; font-weight: bold; |
| .half-width | max-width: 50%; |
| .no-margin | margin: 0; |
| .no-margin-left | margin-left: 0; |
| .no-margin-right | margin-right: 0; |
| .no-margin-top | margin-top: 0; |
| .no-margin-bottom | margin-bottom: 0; |
| .no-padding | padding: 0; |
| .no-padding-left | padding-left: 0; |
| .no-padding-right | padding-right: 0; |
| .no-padding-top | padding-top: 0; |
| .no-padding-bottom | padding-bottom: 0; |
| .no-list-style | list-style: none; |
| .relative | position: relative; |
| .absolute | position: absolute; |
| .fixed | position: fixed; |
| .flex | display: flex; |
| .inline-block | display: inline-block; |
| .block | display: block; |
| .hidden | display: none; |
| .left | float: left; |
| .right | float: right; |
| .right-0 | right: 0; |
| .left-0 | left: 0; |
| .background-color | color: {Customizer Color 1}; |
| .text-color | color: {Customizer Color 2}; |
| .headings-color | color: {Customizer Color 3}; |
| .accent-color | color: {Customizer Color 4}; |
| .light | opacity: 0.25; |
| .medium | opacity: 0.5; |
| .dark | opacity: 0.75; |