Customer Support for WooCommerce makes customer services a lot easier and simple for online sellers. Keep track of your customer enquiries right from within your WooCommerce store. 
Download

the .zip file from your

WooCommerce account

.

Go to:

WordPress Admin > Plugins > Add New 

Upload Plugin with the file you downloaded with

Choose File

.

Install Now and Activate the extension.
More information at:
Install and Activate Plugins/Extensions
.
Customer Support for WooCommerce is a simple plug-and-play extension. To configure  Customer Support:
Go to

WordPress Admin

and navigate to

WC Customer Support>Configuration
Set Ajax Refresh time to function optimally, at 3 seconds. It can be increased to reduce the load if your server is fully loaded or you are receiving customer enquiries in bulk.

Set your Customer Support status to Online to let your customers know that you are available to respond in real-time and click

Save Settings

.

You are all set, now go to

WC Customer Support

tab and chat with your customers!
After installation customer can see a chat slider on bottom-right of your WooCommerce Store.
On clicking
Live help!
slider, it will slide up and your customer can use to chat with you. 
Live help! chat slider, when opened for the first time by a new customer, will be asked for their name and emails address. They are then connected to your customer support directly after entering it.
Existing customers with an account on your web store can connect directly to your customer support without being asked for any credentials.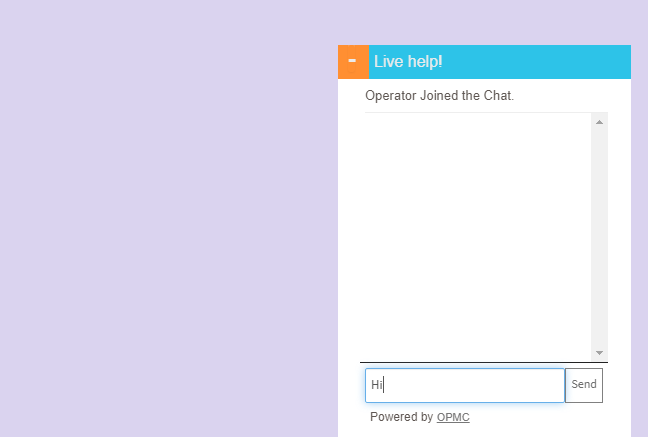 You can navigate to
WordPress Dashboard > WC Customer Support
to interact with your customers about their enquiries.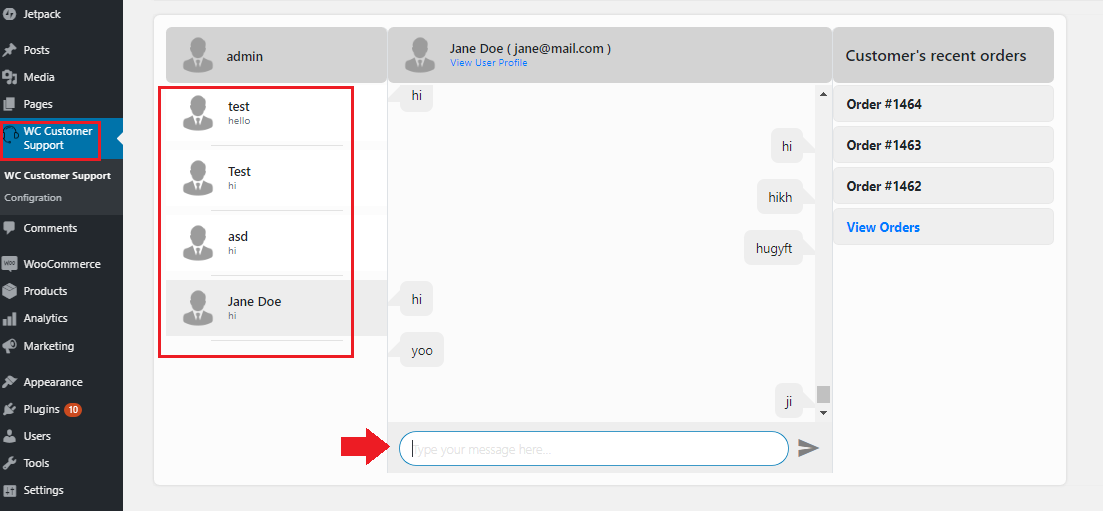 In Customer Support for WooCommerce tab, for customers who have ordered products from your store, information related to their last three orders is provided in the right next to their chat tab. This helps store owner to see and track customers' orders easily. 
Latest orders from clients have the following product information:
Status of Product

Order Date 

Payment Method used  

Shipping Method used

Billing Address 

Shipping Address 
Store owners can also be able to view the total order history of their clients by clicking on
View Orders
option from
Customer's recent orders
column.
You will hear a clear beep sound when you receive a message from your customer and you can check your inbox to respond to them in real-time.
When you are set to offline mode, customers will be notified in the
Need help
chat
slider that you are offline at that time. The message will be saved in
WC Customer Support
tab and can be accessed and given response anytime.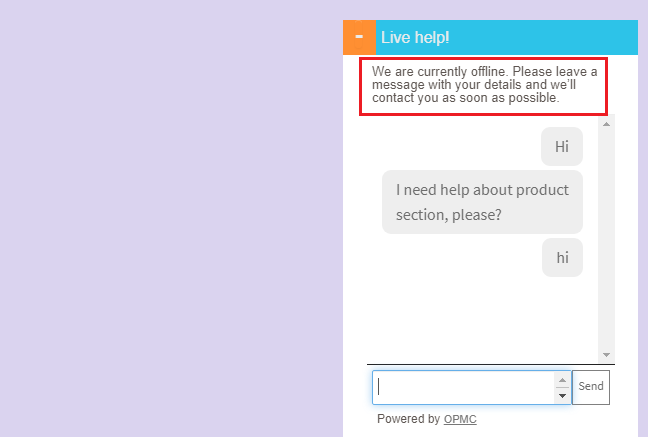 When customers are online or their tab is open after sending a message, the green dot next to their name will identify that they might be available to chat. 
Have a question before you buy?
Please fill out this pre-sales form.
Already purchased and need some assistance?
Get in touch with a Happiness Engineer
via the Help Desk.