To change your store's configuration:
Go to: Payments > Settings
Adjust settings
Click Save changes
Each setting available on this screen is explained in more detail below.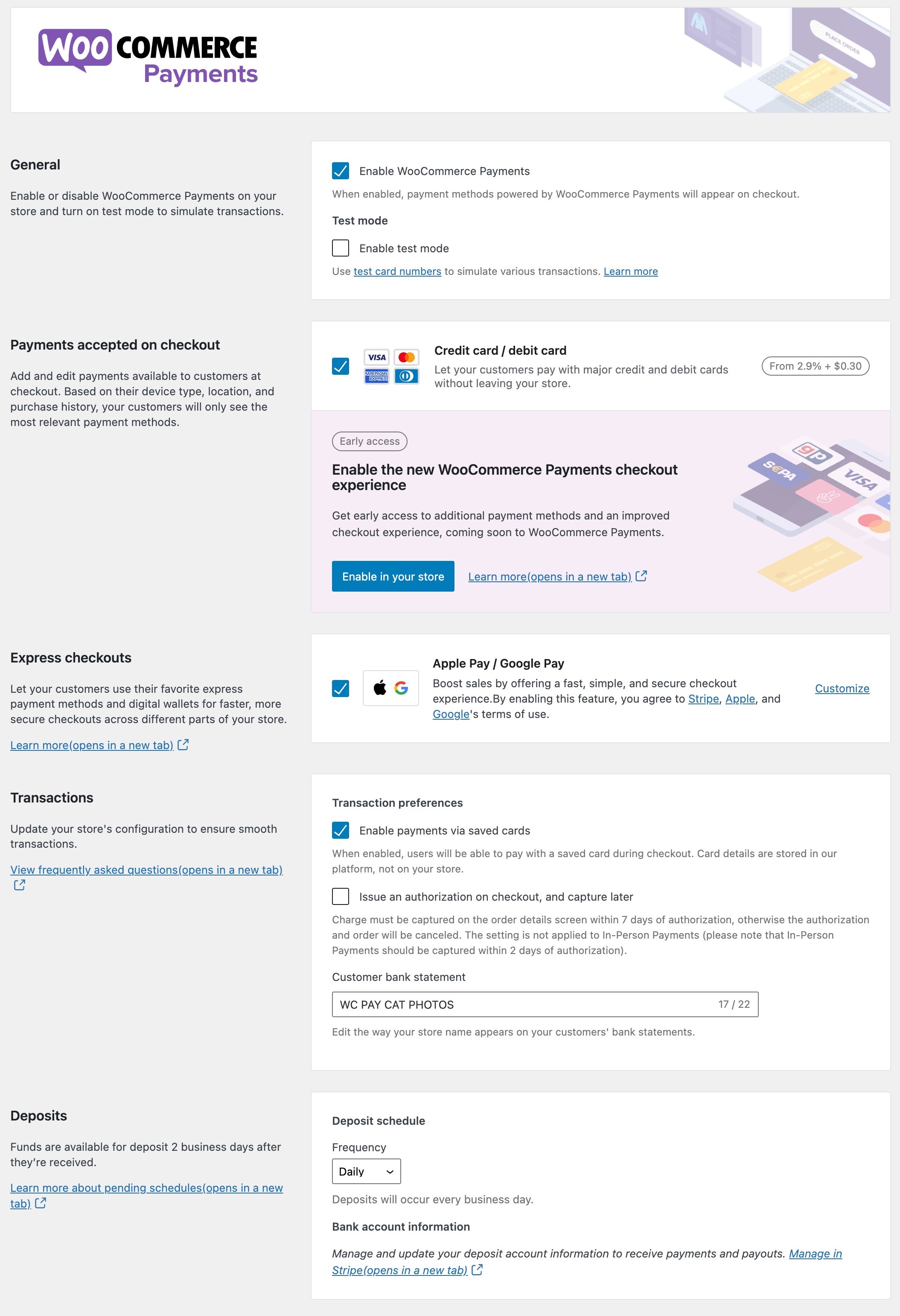 Disable WooCommerce Payments to stop accepting credit cards on checkout using this payment gateway. You will continue to be able to access the Deposits, Transactions and Disputes administration screens after WooCommerce Payments is disabled.
Conversely, having too many payment gateways enabled can overwhelm customers with choice and make your site administration more complex. It's usually best to enable card purchases via a single gateway only so as to not confuse your visitors during the checkout process.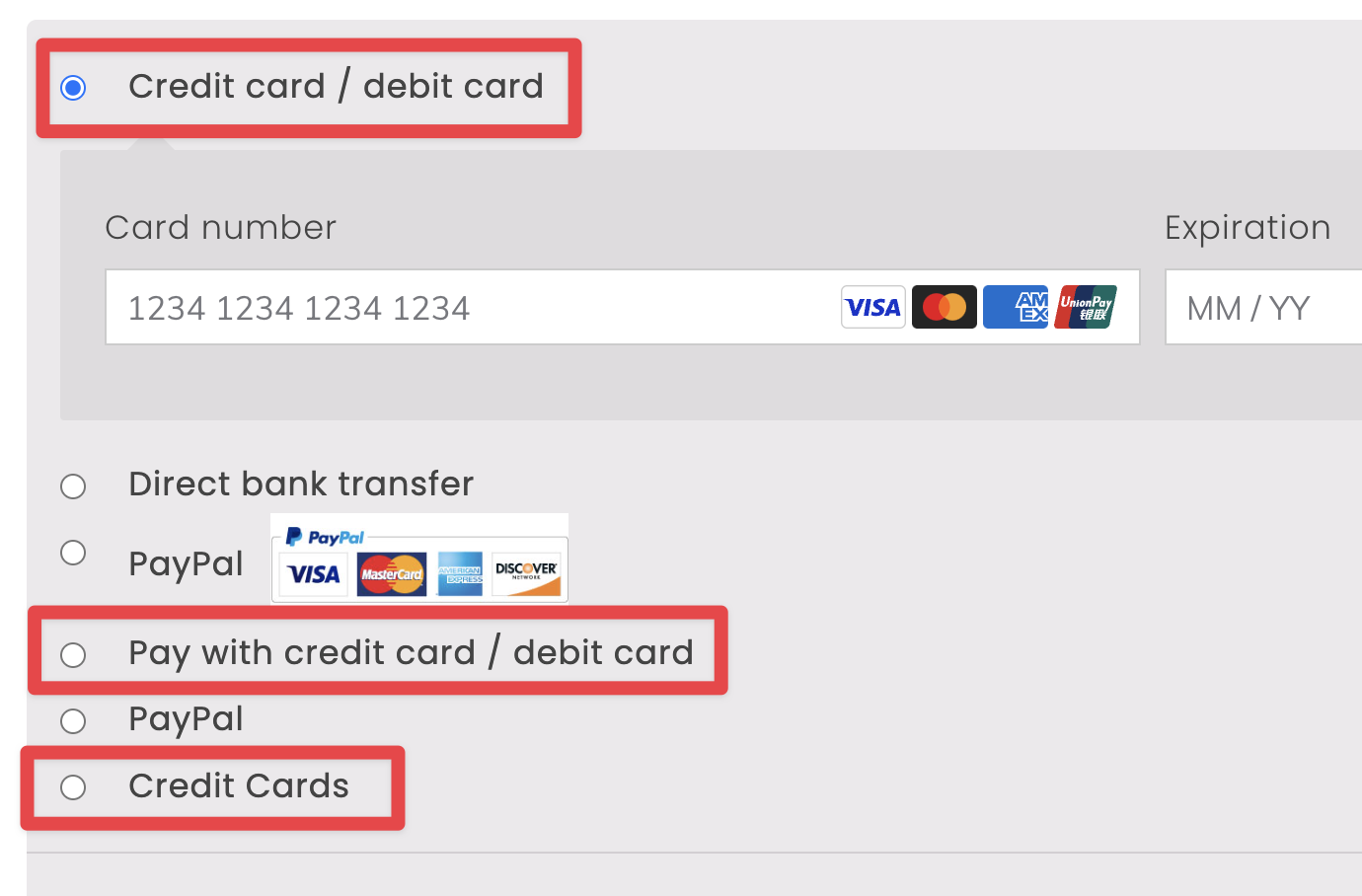 To test payments or disputes, you need to switch WooCommerce Payments into Test Mode. To view previously processed test transactions, you also need to enable Test Mode.
Test mode allows you to simulate transactions using test card numbers. It ensures your checkout is working and enables view-as-customer without placing a real order. Test mode only works with test credit card numbers.
Disable test mode to accept payments via real credit cards.
Enable express checkouts if you would like your customers to checkout via WooPay, Google Pay, Apple Pay, or Link by Stripe.
This section controls where express checkouts is available. For example, by checking "Checkout", "Product page" and "Cart", shoppers can use express checkout on the checkout page, the product page, and the cart page.
WooCommerce Payments supports a few options for you to customize your express checkout button.
Do note, there are two styles of buttons you might see depending on if you a) allow third-party cookies for the site you're visiting, and b) have the "Share that you have Google Pay with companies outside Google" setting enabled in Google Pay itself.
If both a) and b) are true, the button is styled like this:
Otherwise, the button is styled like this:
By default, payment will be captured during checkout. Enable Issue an authorization on checkout, and capture later if you would prefer to authorize payments on checkout and manually capture the charge later (e.g. on shipment).
Importantly, if you enable this setting, you will need to capture funds manually within 7 days of the order being placed. Otherwise the authorization and the order itself will be cancelled.
We have a detailed guide to this workflow which may be helpful to review. In short, however, our suggestion is that you leave this option disabled unless you have a very specific and well-justified use case in mind.
Customer banks statements explain charges or payments on bank statements and include information that banks and card networks require to help customers understand their statements. Familiarize yourself with the requirements and recommendations for statement descriptors.
Use this field to set the name of the store to be displayed on the customer's credit or debit card bank statement. By default the site URL specified during onboarding is used.
If you're eligible, you can change how often you receive WooCommerce Payments deposits into your connected bank account.
There are 3 deposit schedule frequency options:
Daily
Weekly (choose the day of the week, e.g. every Monday)
Monthly (choose the date of each month, .eg. the 1st of each month)
Please keep the following in mind when selecting a deposit schedule:
Deposits set to occur on a weekend or holiday will be sent the next business day.
To receive deposits on the last day of every month, select Monthly and the 'Last day of the month' option.
Deposits are still subject to pending periods depending on the country of your store.
Click here to learn more about How do I change my deposit schedule with WooCommerce Payments?
Your WooCommerce Payments account information is securely stored and managed with our partner, Stripe. Once you have completed account set up, WooCommerce Payments provides a link to access the Stripe dashboard through which you can view and update the following business information:
The operating name of your company or Doing business as name
Physical address
Phone number
Website
Industry your business operates in
Ownership information, including adding or removing owners, and beneficiaries
If you are having issues processing payments or viewing dashboard screens, enable the debug log to record information about these events. To enable the debug log, go to Payments > Settings > Advanced settings:
Debug logs can be found in the WooCommerce > Status > Logs section of your dashboard. To view the logs:
Go to WooCommerce > Status
Click on the Logs tab
From the drop-down, choose the log starting with woocommerce-payments and ending with the date you wish to view
WooCommerce Payments allow merchants to set up their store to receive payments in one of many currencies, giving the shopper a list of currencies to choose from. The functionality is enabled as part of WooCommerce Payments. You should see the Multi-Currency tab after visiting Payments > Settings.

To learn about its options and how to configure them for your store, read over the Multi-Currency with WooCommerce Payments guide.
WooCommerce Payments supports In-Person Payments, allowing customers to pay "in-person" via a debit or credit card. Merchants use a card reader to scan the card and issue a receipt.
You will find a list of your card readers by navigating to the Payments > Card Readers page.
On each successful transaction, your customer will automatically be emailed a receipt. You will also have the option to issue a printed receipt through the WooCommerce mobile app. Certain details of customer receipts can be customized by switching to the Receipt details tab on the Card Readers page. There you can modify your business, customer support, and branding settings. These settings apply to both email and printed receipts.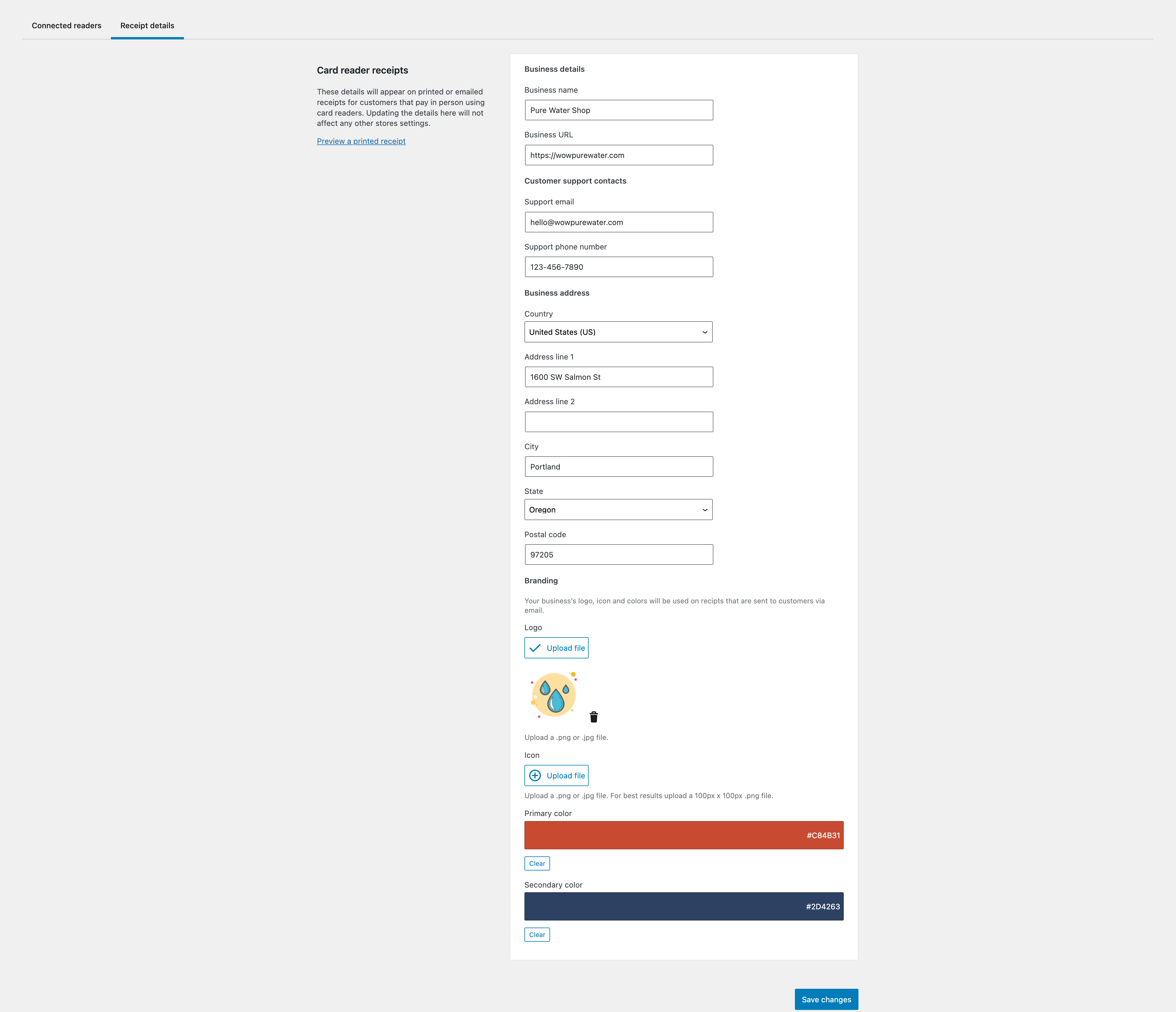 Use the Preview a printed receipt link to preview saved settings. Note that this option will only show a preview of the printed receipt, which is different from the email receipt template. You can modify the email template by visiting WooCommerce > Settings > Emails > New receipt.